Cristiano Ronaldo has once again proved why he is the best football player in the world. Billed as the biggest football game in 2013,
Cristiano Ronaldo ensured that Portugal would be playing in the World Cup next year at Sweden's expense
. Ronaldo showed why he is the most prolific scorer in La Liga this season and his devastating hat-trick has certainly silenced all his critics and naysayers. And I am sure Lionel Messi was sitting in front of his TV watching in horror how his nemesis dismantled a strong Swedish team!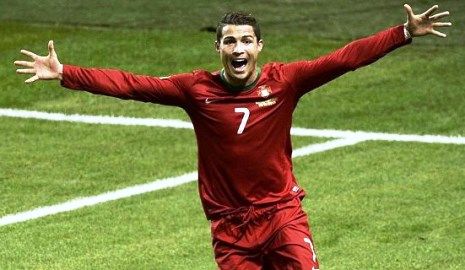 Cristiano reeling away after scoring his mesmerizing hat-trick.
Ronaldo has earlier earned Portugal a much-needed lead with a late diving header in the first playoff. And the Real Madrid talisman rose to the occasion and fired full cylinders with goals in the 50th, 77th and 79th minutes to seal a 4-2 aggregate win. Zlatan Ibrahimovic's two goals almost turned the table for Sweden until
Ronaldo showed his moments of brilliance with 2 more deadly finishes in the final 15 minutes to grab his important hat-trick!
The Portugal's captain performance will surely send shivers down defenders' spines when he terrorize them next year.
All of Ronaldo's 3 strikes showed how accurate his shots were. His quick feet was very good at finding space for him to score even at ridiculously tight angles. However one must also note that 2 of Ronaldo's goals were provided (assisted) by Moutinho's incredulous passes. I dared say that Maoutinho is currently one of the best midfield players who have an amazing eye for audacious passes. He proved in this game with his 2 defense-splitting assists for Ronaldo to put it at the back of the net. Because of Moutinho, Ronaldo could push forward even more to exhibit his deadly predatory touches!


Watch how Ronaldo destroyed Sweden with his hat-trick!
It is really saddening to know that only one team could prevail from this match. I really hope that Sweden could make it as well as they really deserve to be in next-year's World Cup. It is even more saddening to know that Zlatan Ibrahimovic will not be playing in another World Cup Final. *sigh*. Then again as a fan of Cristiano Ronaldo, I am really, really happy that Portugal has gone through. I hope he will continue his scintillating form to win the La Liga and Champions' League.
And I strongly believe Cristiano Ronaldo deserves to win the Ballon d'Or for his is the best player right now.
He has scored 66 goals in 2013. Definitely miles ahead of tax fraudster Lionel Messi!
Cristiano Ronaldo-The Best In The World!