Finally
Samsung Galaxy S4
has been unwrapped (officially of course). After months of speculations and leakages, we got to see the Samsung Galaxy S4 for real. Despite not living to some of the ridiculous hypes, Samsung Galaxy S4 proves that it still have plenty of tricks up its sleeves!
With the plethora of unbelievable features being offered in this amazing Samsung Galaxy S4, I am sure millions more Galaxy(s) will be sold
with Apple scratching their heads thinking how they can make their boring iPhone more interesting! If you are a gadgets purist (being neutral that is), you will agree that iPhone 5 is nothing compared to Samsung Galaxy S4.
Even though Samsung Galaxy S4 has tonnes of innovate features that the "amazing" iPhone 5 doesn't have, it still outperforms (as usual) Apple's iPhone in the hardware department. Under the hood,
Samsung Galaxy S4 is powered by 1.9GHz Octa-core Exynos 5 Processor which is being backed by a whopping 2 GB of RAM
. These alone will blow away most of the smartphones on the market...not mention iPhone 5 is no where near Samsung Galaxy S4.
Yet iPhone 5 sporting A6 Dual-core 1.2GHz processor with 1GB of RAM is selling expensively?
Why is Apple treating their consumers like idiots? (I know fan boys will disagree!)
Samsung Galaxy S4 Full Specifications
Display:

5-inch 1080p 441ppi Super AMOLED

Processor:

1.9GHz Octa(Quad) core processor

OS:

Android 4.2.2 Jelly Bean

Cameras:

13-Megapixel camera (autofocus, 1080p video capture)

2-Megapixel front-facing camera

RAM:

2 GB of RAM

Memory:

16GB, 32GB or 64GB

Expandable Storage:

MicroSD (expandable to 64GB)

Dimensions:

69.8mm x 136.6mm x 7.9mm

Weight:

130g

Battery:

2600mAh battery

Colour:

White Frost & Black Mist
Despite the bigger screen size of 5inch HD Super AMOLED compared to that of
Galaxy S3
, Samsung Galaxy S4 is always smaller than its predecessor. It is slighty shorter and slimmer (7mm) compared to GS3. Meaning more screen time. The down side of Samsung Galaxy S4 is it is still so-called "plasticky". Meaning that a whole lot of plastic is still being used to build it. Then again
Samsung Galaxy S4 is spotting a new embellishment-metallic bar that runs along the edge of it to give a premium feel to it.
However it is not metal, but polycarbonate to protect the sensitive corner of Samsung Galaxy S4.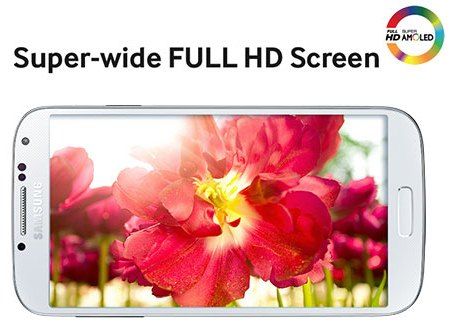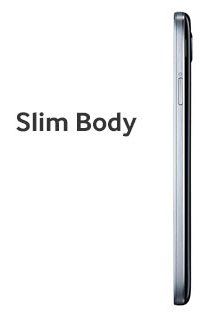 One of the biggest bump in the new Samsung Galaxy S4 has gotta be the upgrade in the camera.
Samsung bumped up the 8-megapixel sharp-shooter in Galaxy S3 to 13-Megapixel of precise shooting machine.
On the front, there is a 2-Megapixel camera for video call. In Samsung Galaxy S4, it is its Camera Software makes it so superior even when you compare it to a normal standalone camera. For starters the camera app now uses the same User Interface as the Samsung Galaxy Camera.
There are plenty of features for both beginners and professional shutter bugs to savour. One of the more interesting feature is the "Eraser".
You can use this "Eraser" to erase unwanted people from your photos.
Samsung claimed that this feature will come in handy when you shoot photos in crowded area where you wanna delete all those "needless" folks from your photos. Sounds interesting huh! I wonder how it will really work out.
The Camera App's dual-shot mode has gotta be one of the most exciting feature any photographer/videographer would one to have.
You can use both the cameras on Samsung Galaxy S4 (13MP rear + 2MP front) at the same time to snap photos and capture videos!
Now you will never ever be left "behind" anymore when you snap photos or capture videos! Goodness! What a darn, darn brilliant feature! Besides, there is also the Sound and Shot mode which allows you to ad up to 9 seconds of audio for your photos. This will make the photos even better for remembrance.
Relying on the native software and UI of the stock Android will never make any smartphone good. That is why the nifty and yet practical software thrown into Samsung Galaxy S4 allow it to beat all the other smartphones easily (including iPhone 5 of course).
One of the most useful feature in Samsung Galaxy S4 is the Air View.
Hover your finger onto something and you will get a pop-up view of what's inside of it. For example, if you were to hover over a photo album, you will see 9 thumbnails of the photos in the album. Air View is integrated into the email client, photo gallery, calender, Flipboard etc. It is like in the
Galaxy Note 2
but without the need of an S-Pen.
Apart from Air View, Samsung has added Air Gesture which allows you to use Samsung Galaxy S4 without really touching it.
With Air Gesture, you can swipe left or right to switch between web pages, tracks of songs, photos in the gallery
, just to name a few. While reading an article you can even swipe up or down to scroll. Heck you can even accept calls just by waving at Samsung Galaxy S4. This is really practical if you are driving? Besides, you can use this Air Gesture to use your Samsung Galaxy S4 when you are eating your oily fried chicken. So no more worries about staining the screen? Ha :D
We have seen the Smart Stay in Samsung Galaxy S3 whereby the front-camera can detect that your head is facing the phone directly, which prevents it from dimming. In Samsung Galaxy S4, Smart Pause will automatically pause a video when you turn your away from it. So no more missing any moments in a movie? Rumours have it that Galaxy S4 will come with "eye tracking" technology, which is pretty impossible. However Samsung claimed that by using tilt-gestures as well as "head-tracking" technology in it Smart Scroll to streamline browsing a page was "the most intuitive and natural to the end-consumer." Hmm...a novelty, but is it pragmatic?


Besides its S Beam and TecTile Integration, Samsung Galaxy S4 also makes sure that it uses its NFC technology to the max by allowing you to pair up to 8 other NFC-devices to activate a feature called
GroupPlay, which lets you blast the same song across 8 different devices
...wow! Speaking about surround sound system aye? Last but not least of the interesting software is the inclusion of an IR blaster on the Galaxy S 4 so that you can utilize it as a remote for just about any modern television. So now you can flip any channels using your Samsung Galaxy S4.
Samsung also wants to have your healthier with Galaxy S4. That is where The S Health App comes into the picture. Using the Samsung Galaxy S4's integrated pedometer,
S Health can track your activity throughout the day and it will know when you are running, walking or even climbing stairs.
Apart from that S Health also enables you to input your consumption activities and give you suggestions on how to stay fit and healthy. Galaxy S4 can also adjust to you and your surrounding via Adapt Display and Adapt Sound respectively to ensure your eyes and ear drums are delicately protected. Speaking about being courteous huh!

Watch and be amazed with what Samsung Galaxy S4 can do for you.
All in all, Samsung Galaxy S4 is a superphone that comes with plenty of features that are aimed to make your life better and not to mention healthier. Samsung has built Galaxy S4 to be your life companion for you to have fun, enjoy your relationships, manage your life better and of course live a healthier life. So far, I dare say that Samsung Galaxy S4 is the best smartphone available on the market. It is not only smart but also very caring at the same time. iPhone 5 cannot even be mentioned in the same breath as Samsung Galaxy S4. Period!
I WANT SAMSUNG GALAXY S4!
P.S.: Samsung Galaxy S4 is expected to reach our Malaysian shore around June and will be priced at RM2,099.