As you guys have known I have an
Apple iPad 2
to toy around with. I have been playing with it for months. Initially I was really excited to have something that millions wanted to touch...but then the joy fizzled out as
I realized that my iPad 2 is a bit too huge and bulky for my little hands
after prolonged use. I am sure my daddy and wife are facing this nagging issue as well. That is why I wanna remind those who wanna buy a tablet: Make sure it is of the right size and weight!
Nowadays I bring my iPad around a lot as I use it to check my emails, keep in touch with my friends on Twitter and Facebook and more importantly to entertain myself with games. Hence...I find that my iPad 2 is a tad heavy to be carried around just by holding it.
Hand it over to my wife and she will tell you that iPad 2 just won't fit into any her chic handbags.
My daddy who likes to play games on the iPad 2 has also told me that he can't be playing it for too long.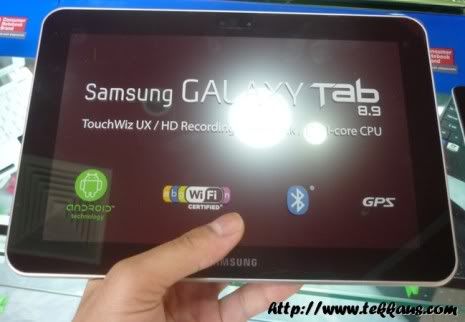 This is what we need?
It's too heavy! It's too big! It's too bulky! So what's the solution? We need something smaller, slimmer, sexier and definitely lighter!
Introducing Samsung Galaxy Tab 8.9-the perfect tablet for you and I!
Let's compare Galaxy Tab 8.9 with the so-called best tablet in the market right now-Apple iPad 2.

Samsung Galaxy Tab 8.9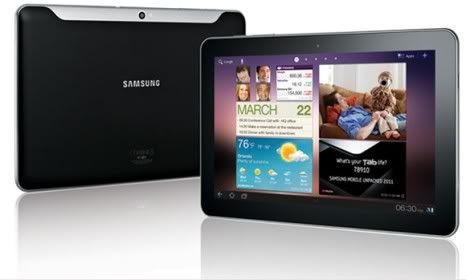 8 Reasons Why Samsung Galaxy Tab 8.9
is the best Tablet for you!
For starters Samsung Galaxy Tab 8.9 only weighs at 453grams compared to iPad 2 heavy weight of 607grams.
(1*)
That makes Samsung Galaxy Tab 8.9 a whopping 25% lighter that Apple's iPad 2!
This is what we call total mobility! Moreover Samsung Galaxy Tab 8.9 has also dethroned Apple has the
(2*)
thinnest tablet in the market right now, with its unprecedented thinness of just 8.6mm. So form factor wise, Galaxy Tab triumphs!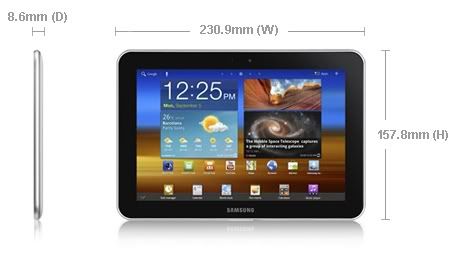 Now let's see what's under the hood:
(3*) Samsung Galaxy Tab 8.9 is being powered by an amazing 1.5GHz dual-core processor
while iPad 2 has only 1GHz of dual-core to show off. This means Galaxy Tab 8.9 is certainly way better at multitasking compared to iPad 2. So now more lagging while you play graphic-intense game! How about RAM then? Do you know that
iPad 2 has only 512MB of RAM
for your disposal whilst the smaller
(4*)
Galaxy Tab 8.9 has a whopping 1GHz of RAM
for your demanding need. Again which do you think will serve you better when you switch apps and games?
How about the display? You would have thought that iPad 2 with its 9.7 inch display would nick this one...BUT NO!
(5*)
Samsung Galaxy Tab 8.9 again turns out to be the victor with a higher resolution of 800x1280 at 170dpi.
Rest assured that you will have an enjoyable time watching your favourite movie on Samsung Galaxy Tab 8.9. Not to mention that Samsung Galaxy Tab 8.9 supports microSD card up to 32GB
(6*)
while iPad 2 doesn't. What a bummer!
I have always thought that a tablet should be able to replace your laptops and even your smartphones. What
really disappoints me is that Apple iPad 2 rear camera is only 0.7MP
which is less than 1. What a shame for device claimed to be the cutting edge of technology. Don't you feel you are being shortchanged? Likewise
(7*)
Samsung Galaxy Tab 8.9 comes with 2MP front camera and 3MP rear camera plus autofocus with flash
. With Galaxy Tab 8.9 all your priceless moments can be captured vividly. So whom do you think is the winner here?
Furthermore
(8*)
Galaxy Tab 8.9 runs on the latest Android Honeycomb 3.1 which I really love. Top that up with Samsung's very own TouchWiz 4.0 which gives you more control over your tablet. It is safe for me to say that at this very moment
Samsung Galaxy Tab 8.9 is the best tablet anyone should have
! It is the ideal tablet with just the right size for everyone especially me. The fact that it is preloaded with Polaris Office makes it easier for me to do bring my work around.
Now I can store my files, snap beautiful photos, listen to music, emails and IM all from one tablet-Samsung Galaxy Tab 8.9. You have read all the good news...wanna know what's the BEST news?
You can get this ideal Samsung Galaxy Tab 8.9 from Celcom for as low as RM1,288 (US$408).
Celcom is easily my preferred choice of broadband package for my tablet as it is very affordable and boast the widest network coverage in Malaysia.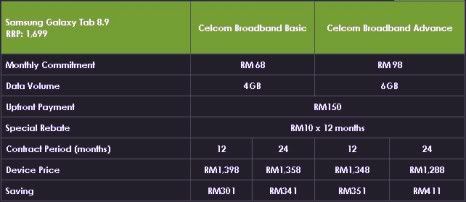 Pick the best plan that suits you and your Galaxy Tab 8.9 :)
Honestly when I am on the go, I know I can always rely on Celcom Broadband to allow me to stay connected all the time without any disruption. I can blog without any hassles.
I can play online games without being potong-ed stim and I can stream my favourite Jay Chou's songs with no lagging with Celcom. Woohoo!
Of course Celcom also has other tablets from its stable for you to choose from: Galaxy Tab 7 and Galaxy Tab 10.1. For more information, check out
www.celcom.com.my/smartphones
to get the best deals and perfect plans that suits you.
So which tablet do you prefer now? For me Samsung Galaxy Tab 8.9 is still the best. Why?
Because 8 means "Fatt" (Prosperity) and 9 means "Jiu" (Longevity).
This means that the more I use Samsung Galaxy Tab 8.9 for my blogging, the more money I will be making with my blog and this tablet can serve me longer. Ha :D I wish Santa can give me this as my Christmas present. :p
Samsung Galaxy Tab 8.9 is Sexy and Slim-just like me. LOL :D