Time flies and another year has gone...and last week we celebrated my beloved daddy's birthday. The wrinkles around his eyes and the creases on his forehead show how he has aged.
So on his birthday, wifey, our 2 babies and I brought our Papa to Pappa Rich for his birthday dinner.
Ha :D Usually we will bring daddy to a cafe for dinner because (sometimes) he is a picky eater. :p Initially we wanted to have our dinner at old BUT...Old Town is really lousy place to dine in right now (terrible food), hence we decided to give daddy a feast at Pappa Rich instead.
It's your big day daddy. :)
I personally love Pappa Rich a lot because of the conducive environment which exudes such a calming ambiance that makes us feel right at home. When we arrived at its doorstep, there was no other customer...maybe because of its price? Though the food and beverage can be slightly pricier, I don't really mind because
the food that Pappa Rich serves is really scrumptious and the portion is quite big
. Yep! So you don't feel like you are being short-changed while dining here. Period.
Both Daddy and wifey ordered Nasi Lemak With Curry Chicken while I chose to try their chicken rice. Just look at the chili sambal that we were served. Not only was the sambal tasty, PappaRich was also very generous by giving us a lot of sambal (something that Old Town has failed terribly). Likewise my Chicken Rice was really good as well.
Just like the curry chicken, the flesh of the "white" chicken was really tender and juicy
, something that a lot of similar cafes (Old Town :/) couldn't really offer. The bean sprouts were crunchily toothsome with a hint of saltiness which I really like. To top it off, the chili paste that comes with the chicken rice was really appetizing which made everything that shoved into my mouth tasted so much more delectable. Ha :D
So what did our two rambunctious babies had for their dinner? Besides sharing our Nasi Lemak and Chicken Rice, we ordered steamed bread and
Pappa Naan
.
This Pappa Naan with curry sauce is really a must have when you patronize Pappa Rich.
The Ouh-so-creamy curry sauce really brings out the best in the texture of fluffy naan. Every bite will leave you satisfied and your taste buds gratified (Wow...it rhymes). All in all, we enjoyed our dinner and my Daddy certainly had a great birthday feast to say the least. :)
Let's makan. :)
What birthday would be complete without a cake right? My daddy was grinning from ear to ear the moment we took out his birthday cake.
More importantly Daddy was happy because his two little grandchildren were beside him to sing his birthday cake as well.
Perhaps his two boisterous grandkids are the best birthday gift I could give him every year as a son. LOL We bought tiramisu cake for daddy. I think the cake looked rather special because on top of it was a cup with overflowing coffee...or maybe chocolate. :)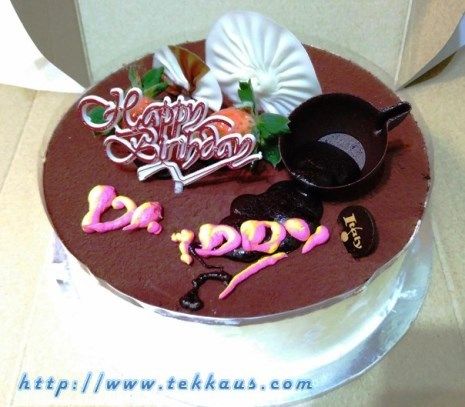 Daddy's Tiramisu cake.
Ok~it's time to switch off the lights.
Happy Birthday daddy.


Last but not least was my father's birthday gift. However we didn't give my daddy his birthday gift immediately after eating his cake. Therefore my daddy assumed that there would be no gift for him. After all we had treated him to a hearty birthday dinner and then presented him with a birthday cake. Ha ;D
When he was no suspecting anything (notice that he was wearing his normal shirt), out came a small gift.
Daddy of course happily received it and started to unwrap his birthday gift. So what did he receive for his birthday?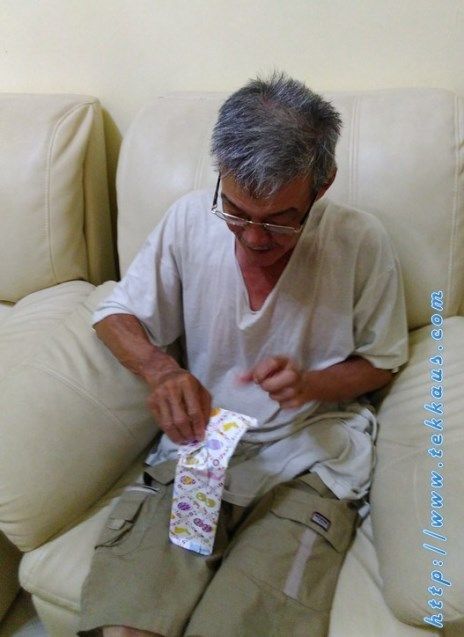 Daddy excitedly unwrapping his birthday gift.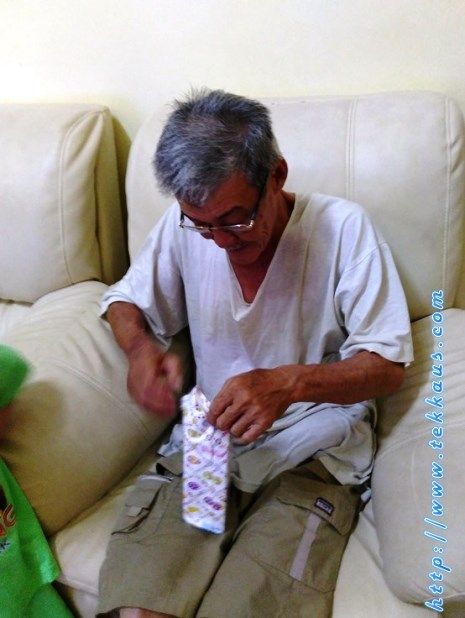 What do you think is inside of this white wrapper?
Happy Birthday Daddy! Hopefully you will enjoy using this new smartphone of yours. I love you daddy and I know you love me a lot as well. You will always be my hero. Muack :-X