It was only like yesterday that I was
in the labor room my wife
, watching how she struggled to bring our Jordan boy into this world. I would never ever forget that the first time I saw our little boy and now...he is going to school already-kindergarten. Time really flies huh.
Jordan boy officially embarks on a new Journey this Monday (5th of January 2015) and now he is considered to be a "big" boy.
So every day he will be donning his uniform and goes to school. :)
Jordan boy cried when he first arrived. :p
Honestly
Jordan boy cried when we arrived at his kindergarten
. The sight of so many unfamiliar faces looking at him made him feel rather uneasy. Hence tears started to well in his eyes and he didn't want me to put him in his new environment. Then again...perhaps we had never ever left him with someone else other than the babysitter...so he was a bit scared in the beginning. Then I managed to persuade him to get into his class. Still he was crying and he appeared to be angry and upset with me. Ha :D
The headmistress of the kindergarten assured me that everything would be fine. I believe he would fit in as well...it's just that he needs some time. Besides,
having other children around him does make him feel a bit safe and comfortable and in no time he has blended in (for now)
. Since this is his first week, he only needs to be there for around 3 hours. So when I went to pick him up, he was smiling ear to ear. Look at his smile when he saw daddy had come to bring him home. :p

OK~it's time to go back. Look how happy he is. :D
Jordan is wearing his sandals.
Well Jordan boy~
mommy and daddy hope that you would be able to enjoy your new adventure ok
. Play hard and study hard as well ok. Mix and mingle with your new friends. Do share your toys and stuff and always be obedient and listen to your teachers ok Jordan boy. Remember to eat your meals and drink enough water. Mommy and daddy want you to be a good boy. We will do our best to let you enjoy your childhood and prepare you for your future at the same time. Muack~ :-X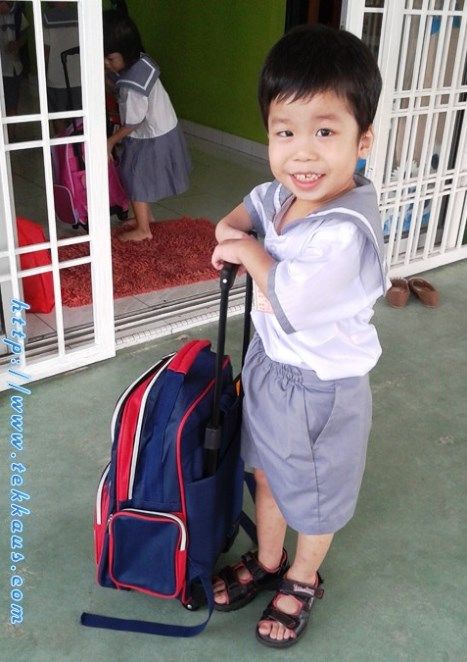 Ok~tomorrow we will be coming here again o. :)