Samsung has officially unleashed the long-awaited Galaxy Alpha. Samsung fans and investors will be happy to know that Sammy is finally heeding advice to create something that everybody (almost) would want. With the release of Galaxy Alpha, Samsung's smartphone now comes infused with that "premium feel" that the masses have been yearning for-the METAL frame going round the edges of the Alpha! What took Samsung so long to respond to this demand huh?
The new Galaxy Alpha
Now Galaxy Alpha feels really more solid with the new element infused into it.
However the back of Galaxy Alpha is till made of plastic
and its innards is somehow similar to Galaxy S5. This is somehow a bit disheartening. Why can't the back have the luxury or a metal cover? Perhaps to keep the cost down. With Alpha, you will get a gorgeous 4.7inch HD display, an impressive octa-core Exynos processor, 2GB of RAM, 32 GB of internal storage (which is non-expandable), a 12MP rear camera, LTE and 1860 camera. So far...Alpha seems to boast relatively impressive specs, to say the least.
A beautiful new Galaxy. It's an Alpha!

The back of Galaxy Alpha is removable and that means the 1,860 battery can be replaced. However the downside of the new Alpha is the lacking of a microSD expansion slot which can be a deal-breaker for some.
Tipping the scale at a featherweight 115grams, Galaxy Alpha is certainly a looker with a thickness of only 6.7 milimeters.
I am sure a lot of people would welcome this new "lightness" in Galaxy Alpha. Perhaps that is why a bigger battery and a microSD slot have been sacrificed here. Somehow Galaxy Alpha resembles
Samsung Galaxy S2
a lot don't you think so?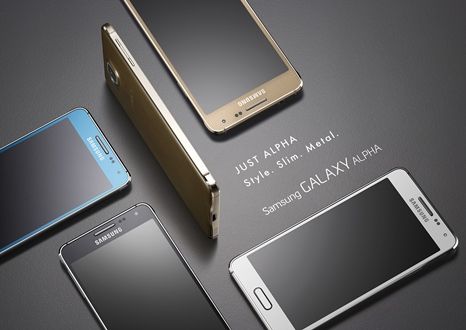 Dimensions: 132.4 x 65.5 x 6.7 mm, 115g
Display: 4.7" HD Super AMOLED (1280 x 720)
Processor: Exynos 5430 Octa Core (Quad 1.8GHz + Quad 1.3GHz)
RAM: 2GB
Storage: 32GB, non-expandable
Camera: 12MP (rear) + 2.1MP (front)
Battery: 1860 mAh
Connectivity: WiFi: 802.11 a/b/g/n/ac, MIMO(2×2), Bluetooth 4.0 BLE / ANT+, USB: USB 2.0, NFC, LTE: LTE Cat.6 (300/50Mbps), nano-SIM card
Fingerprint sensor: Yes
Hear rate sensor: Yes
Waterproofing: No
Android 4.4.4

Samsung Galaxy Alpha~Just Alpha


The Samsung Galaxy Alpha will be launched in September, together with Galaxy Note 4. It will soon be available in 150 countries. Obviously Samsung wants to release Galaxy Alpha to compete head-to-head with Apple's new iPhone 6.
Alpha will come in 5 different colours at launch: Dazzling White, Charcoal Black, Frosted Gold, Scuba Blue and Sleek Silver.
However, fans who hope that Alpha will be priced competitively will be disappointed as it has a top-of-the-scale price tag of US$800 (RM2,400).