In my every day work, I use scanner fairly a lot when I need to "capture" documents for use. The conventional scanner that I hav...
In my every day work, I use
scanner
fairly a lot when I need to "capture" documents for use. The conventional scanner that I have in my company is not only cumbersome, but also very rigid. Before this I thought all scanners are the same boring, uninspiring flatbed until I meet Mustek scanner made specifically for iPads!
Introducing the unbelievable Mustek DockingScan for all generations of iPads
(from 1st to the third reincarnation). Surely a lot of naysayers and skeptics will be saying, "Scanner for you iPad?" The tone of disbelief fills the air...I was equally doubtful as well...
My new scanner-DockingScan for iPad!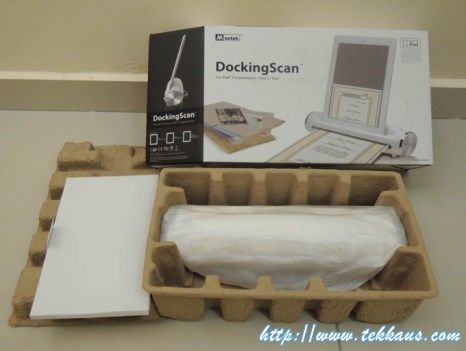 So does this DockingScan look like?
It certainly doesn't look like your ordinary scanner right?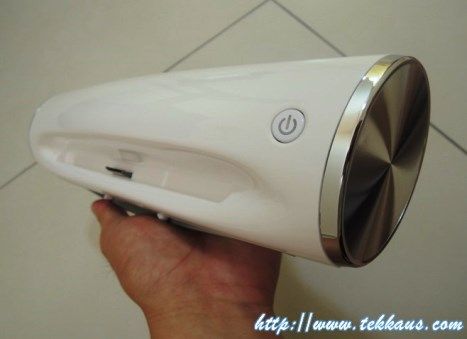 Power button. I love the design.
So metallic-ally classy!
I thought it was somewhat "redundant" for your iPad to have a scanner. How wrong was I when I started to have one. The moment I plug my iPad onto Mustek DockingScan, I knew immediately that it was the most awesome scanner I have ever used!
Besides scanning photos and documents, Mustek DockingScan can also triple up a a docking cradle and charging station.
So basically it is a 3-in-1 gadget! It is really a head-mover mind you. My DockingScan is an elegant white small candybar that exudes so much class to it, especially its round metallic edges.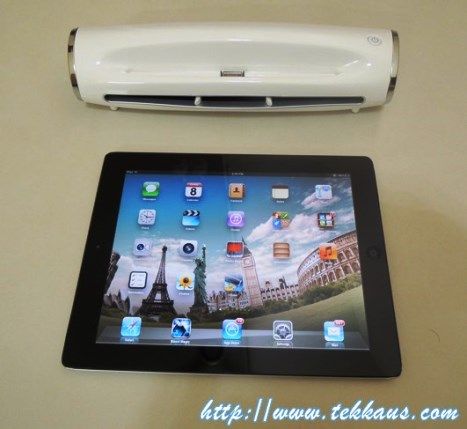 Once you have downloaded the i-Scan App you can start scanning!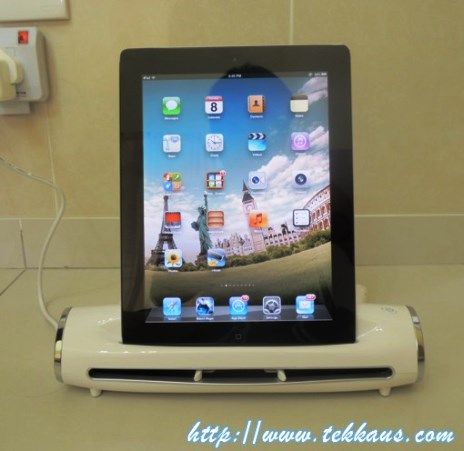 Just dock your iPad into the DockingScan.
Click on the i-Scan app and voila you can start scanning.
Before you can use the scanner, you need to install the i-Scan app in Apple Store. Once installed you can start to enjoy scanning virtually anything that can go "inside" the DockingScan. Ha :D Now apart from being aesthetically pleasing, Mustek DockingScan is surprisingly very, very pragmatic. It does its job like magic. I have never ever used such an intuitive scanner and this
DockingScan really makes scanning fun, enjoyable and not to mention...classy!
Yes. I just pop in a photo that I wanna scan, the photo will be pulled in and voila instantaneously it is being scanned in real-time! Do watch the videos included!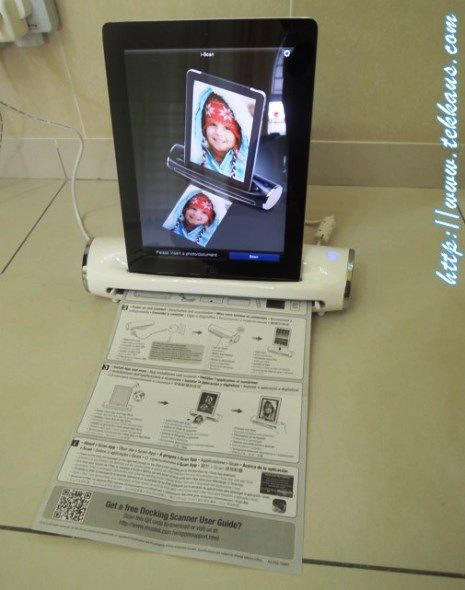 Feed the DockingScan what you want it to scan.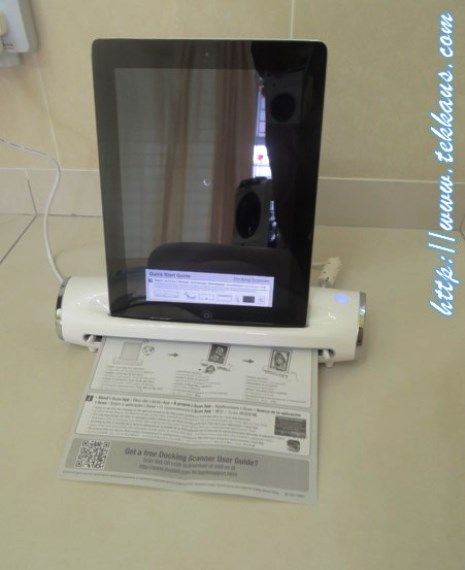 Watch how your scanning is being done "LIVE"!

Watch how I scan the document in 3 simple steps.


Mustek DockingScan can quickly scan your documents and photos into JPEG files and save them directly to your iPad. Easy~peasy! It is capable of full colour scanning up to legal size (8.5" x 14") at 300dpi. Like I have mentioned earlier, one of the coolest features about DockingScan is its real-time preview the moment you pop in a document or a photo. It really can't get any better than this. I think one of the most important reasons why I am so in love with DockingScan is because of its ultra simple and interactive user interface. It only takes you 3 "touches" to scan anything. Awesome right?
I love the fact that DockingScan can scan all my photos effortlessly.
See~:D
It's time to start "archiving" my family photos.

I am so in love with my DockingScan! 5-star rating from me :D


I have even brought my new scanner to my office for my own personal use because it is portable and lightweight. Of course I could not escape my colleagues envious stares. Ha :D Likewise, I have always wanted to scan all my old photos to back them up for future viewing, you know...to preserve the film photos that my family snapped decades ago. I can't believe that Mustek DockingScan is finally making this wish of mine come true.
I have thousands of old photos to be digitalized and my new DockingScan is making the "transition" a lot of simpler and fun.
Who says scanning is boring. Haha :D
Guess where did I get this unique DockingScan for my iPad? At Lazada of course. You can get all your
tech gadgets here at Lazada
! Do check out all the special sales on
Lazada
like I always do. Ha :)