As some of you are aware, yours truly life companion (taken from Samsung GS4)-my old, trusted
Nokia E72 had passed away
recently. Rain God was to blame for its unfortunate, badly-timed, demise. My life came to an abrupt halt and I needed a new smartphone to use immediately. After pondering for quite some time I decided to buy
Ninetology's Black Pearl 2
smartphone.
I am unbelievably impressed with my Black Pearl 2 as it is really, really darn good for its price-RM299 (US$100)
. It is really a bargain if you ask me.
I am so, so in love with my new Black Pearl 2 right now. If you ask me...it is simply one of the best smartphone out there for just RM299 (US$100). Other Black Pearl 2 owners will gleefully nod their heads to agree. Then again the actual price for this wonderful Android Smartphone is RM599. However
yours, truly me, managed to get someone (thank you) to allow me to use her "Pakej Komunikasi Belia" to get a whopping RM200 discount
. Then the manufactur-Ninetology, throws in another RM100 discount to sweeten the deal. That's why I managed to get this awesome Black Pearl 2 for a mere RM299. :D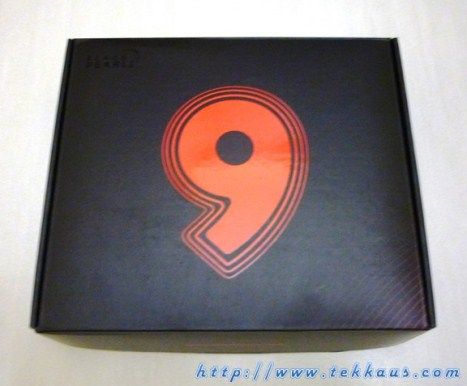 I am so in love with "9" right now.
Finally~My Black Pearl 2
From Left: Tangle-free headset, USB cable and charger.
However, before the Scrooge in me decided to part with my RM299 to get this smartphone, I did a lot of research about this Black Pearl 2 from Ninetology. After days of contemplating, I finally took out my hard-earned money to buy my new Black Pearl 2 which I am deeply in love with right now. I must say that I am glad that I bought this smartphone.
It is a very, very wise decision to buy the Black Pearl 2 at such a rock-bottom price of RM299
(I can't help it...I have to repeat this again and again). LOL :D
Here's what I get in my powerful Black Pearl 2. It sports a huge 4inch IPS screen with 16 million colours with a relatively impressive 244ppi piel density. Under its hood,
there is a fast 1.0GHz dual-core processor with 521MB of RAM to ensure everything is fluid on Black Pearl 2
. As for internal storage, there are 4GB for your apps, store photos and of course the Android OS. A bit too little if you ask me but thank goodness you can upgrade your storage with a MicroSD card which can support up to a whopping 32GB of storage.
Black Pearl 2 is equipped with an advertised 5MP shooter.
However you will be surprised to know that the actual quality of rear camera on Black Pearl 2 is 8.0MP.
Yupe! The rear camera has auto-focus, face-detection features and even an LED flash. Not bad for a RM299 smartphone right? However the front camera is only 0.3MP...could have been a little bit better right? As for the connectors, you will get the usual USB 2.0 and 3.5mm audio jack.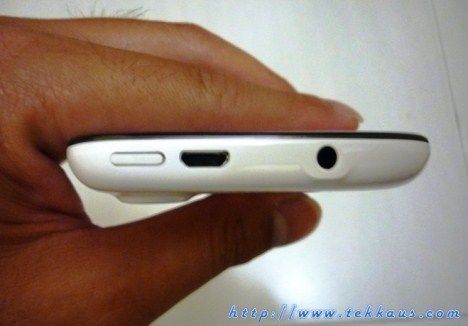 On top: The power button, micro USB slot and the audio jack.
The volume rocker on the right.


Now let's talk about the connectivity of Black Pearl 2 shall we? First thing first it supports 2 sim cards which is really a plus point for me.
Black Pearl 2 is a 3G (HSPDA, HUSPA) smartphone that comes with Wifi, Bluetooth 3 and even GPS.
Yupe! You can use Google Map and Foursquare with Black Pearl 2. Yay! There is even FM thrown in for those who prefer to listen to radio. Last but not least my Black Pearl 2 is juiced by a 1,600mAh Li-ion battery that can last me for a day with normal usage.
After using my Black Pearl 2 for almost a week, I must say that I really, really love this smartphone a lot. I have installed plenty of apps in it: games and productivity apps. I know some of you are experiencing problem with its battery life and GPS lockdown.
I have solved the battery usage and GPS problems by upgrading the firmware in my BlackPearl 2 into Firmware 17.
That is why my Black Pearl 2 can really last me more than a day. So do I think RM299 for this Black Pearl 2 is worth my money? Of course. Black Pearl 2 is by far the best smartphone for its price. :D