Sometime ago my wife and I wanted to try something different from what we usually have in
Sushi King
. So we visited a new Japanese restaurant which is just a stone's throw away from our home.
A few of my friends have tried the food here and they said it is better than those served in Sushi King (really?).
They claimed that this new place is a must-visit for Japanese food lovers. Introducing Wasabi Sushi House, which is located at Taman Mederka Permai.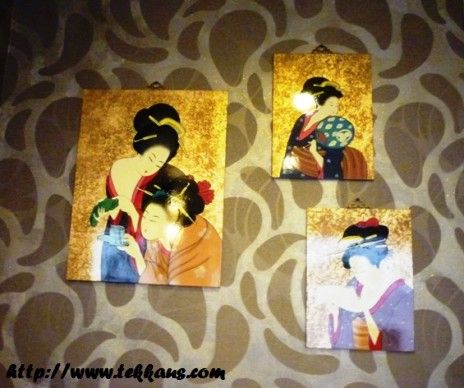 Pictures decorating the walls.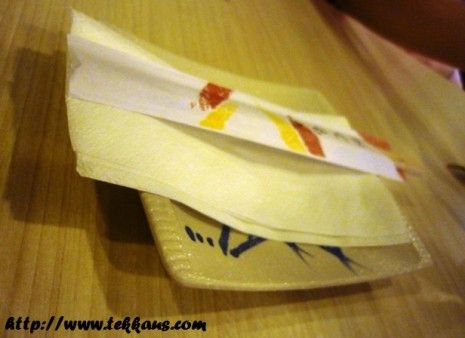 Cleanse yourself with a cup of green tea before the feast. :p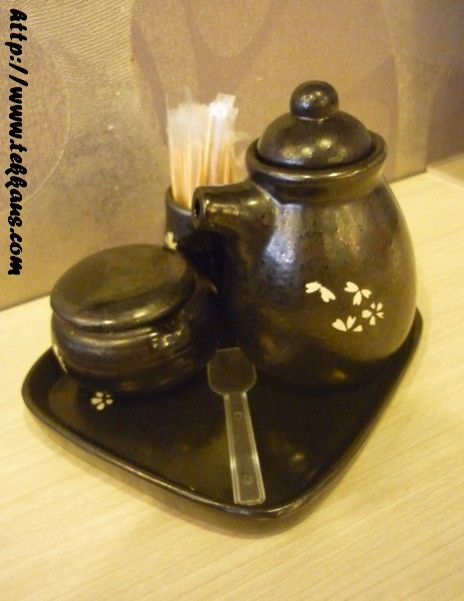 What are these? You will know later. :)
There are quite a lot of people when we reached Wasabi Sushi House. Even though the restaurant is a tad small, it is quite comfortable. My wife and I took quite some time before we could decide what to eat...perhaps too many choices for our plates? We needed to wait for a while before our feast could start. The first to land on out table was a bowl of
Edamame
.
I think I have never tried these boiled soybean before, thus making it more pleasurable for me
...the few dashes of salt made them more edible as well. :p
I had a lot of fun, squeezing out those soybeans from their sheaths. My Jordan boy enjoyed it as well. :p After the appetizers, our main dishes soon arrived.
My wife tried the Salmon Bento
which came with rice, soup, salad, seawed, chicken fillets, watermelon and of course salmon. Sounds like a wholesome set of meal huh!
My scintillating dinner was Karaage Tama Don.
Hmm...presentation wise it was quite mouth-watering. I love the crispy chicken very much...however the portion could have been bigger.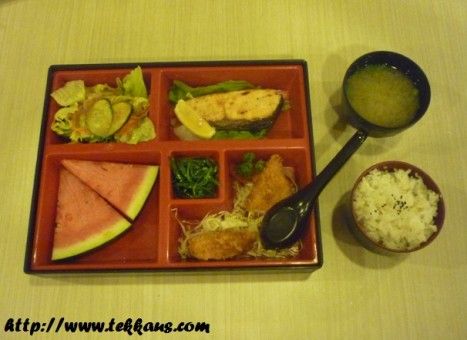 The wholesome Salmon Bento!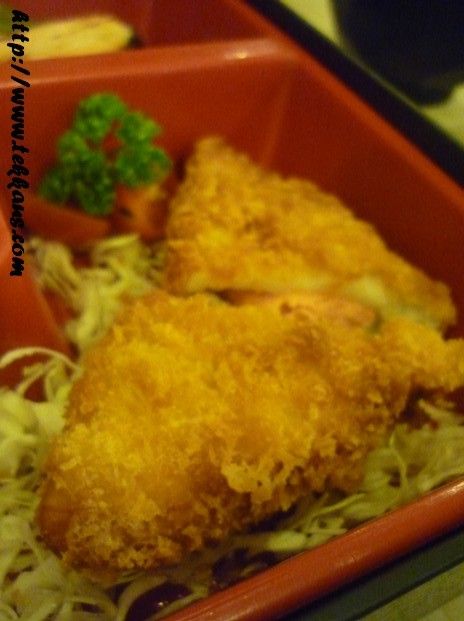 Chicken!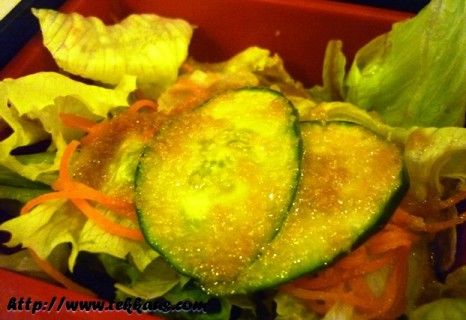 Very appetizing Salad.
Seaweed?
Last but not least my wife and I ordered our "dessert"-Salmon Cheese Maki. It was very delicious, thanks to the slightly roasted cheese. Then again I wish that more Salmon could have been added. Haha :D I am being greedy aye. I also love their special blend of "wasabi". Instead of providing us with the usual green wasabi paste,
Wasabi Sushi House serves its customers with distinctively spicy mixture of chilies and wasabi.
Thumbs up for this. Make sure your glasses of water are ready to douse off the fire in your mouth. :)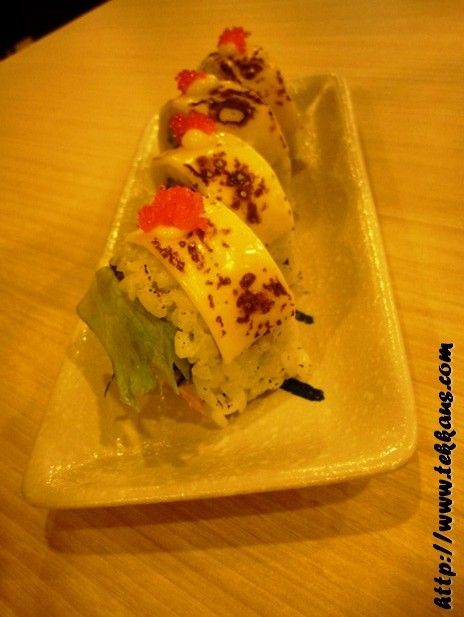 Our Salmon Cheese Maki.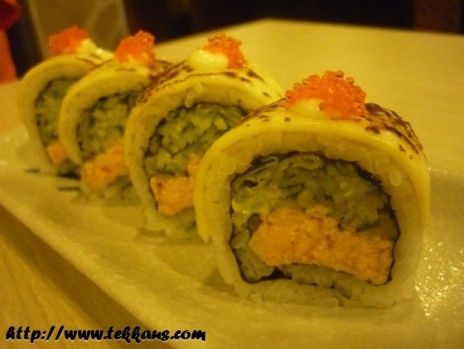 Beautifully decorated.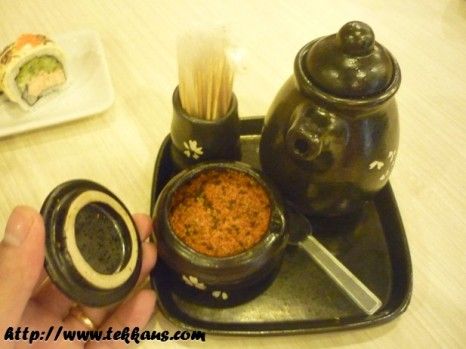 So what's inside of the pot?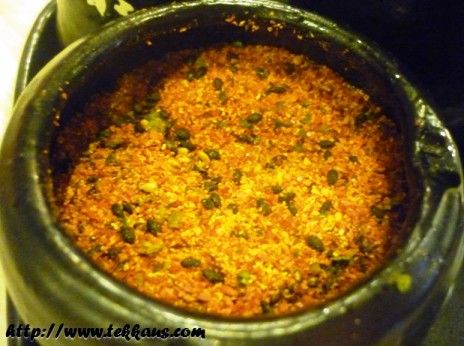 Spices and wasabi. :)
This is going to flame my tongue!
Aww...nothing beats the pleasure of sipping your hot, steaming green tea after a satiating Japanese meal aye? So should you try the Japanese food at Wasabi Sushi House? Well...definitely if you want to enjoy and delicious meals while basking yourself in cozy, zen-like ambiance and not to mention the special blend of "wasabi". Ha :D
The service at Wasabi Sushi House was excellent to say the least.
They provided my Jordan boy with Kids utensils even without us asking for it. Now that's what I call top-notch service. :)
11:00a.m. - 2:30a.m.
5:30a.m. - 10:00p.m.
Closed on Monday.
32, Jalan MP2, Taman Mederka Permai,
Batu Berendam, 75300 Melaka.
Telephone: