Today I would love to share with you guys probably one of the cutest species of monkeys I have ever seen (known) in my entire life. Behold the
world's cutest and smallest monkey-the Finger Monkey aka Pygmy Mormoset
. They are totally different from their wilder, more vicious cousins. These finger monkeys are so adorable that you may not wanna take your eyes off them...like forever. If one of these super adorable finger monkeys were to cling on to your fingers, I am sure you would wanna bring it home. :)
Aww...they are so adorable...
Finger Monkeys are native to the rain-forests of Brazil, Peru, Bolivia, Ecuador and Colombia. They are no doubt the world's tiniest true monkey with its body length (excluding the tail) ranging from 14 to 16 centimeters.
These finger monkeys have also been known as "pocket monkey" and "tiny lion".
A real cute little lion huh! Let's have a look at some photos of the world's tiniest and not to mention cutest monkey ever. Just look at the eyes...aww...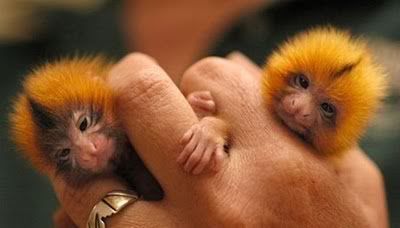 Roar~they are also known as tiny lion!
I would love to let one plays with my finger. :)
Preparing to jump.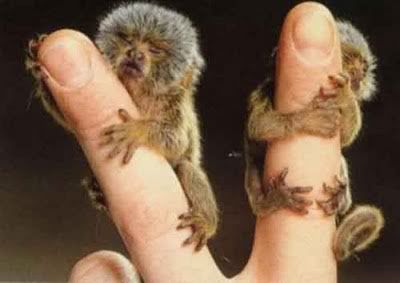 They are sleeping as well.
OMG~just look at those pair of eyes.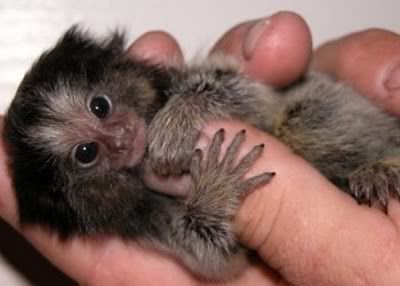 They look so innocent...my heart is already melting...
Finger monkey can live up to 12 years in the wild and into their twenties in zoos. Do you know that these finger monkeys feed on the gum of tree in their natives habitat, so it will be hard for them to be domesticated as pets. It does look more adorable compared to a sugar glider right? Fancy to have a pair of finger monkeys to be your pet? I am so in love with these Finger Monkeys right now.
These tiny finger monkeys can snuggle in my pocket and follow me wherever I go.
Too bad...they are still monkeys. They are so exotic that special care needed to be given to them, not to mention special food. Only keep these finger monkeys as your pet if you are really ready. :)
Watch a cute finger monkey playing. :)