Some time ago we traveled from North to South, on our way back home from Taiping to Malacca, we made a detour to have our lunch (or was it dinner?) somewhere in Petaling Jaya. My sister-in-law who is dwelling around there suggested that we try some Korean food. Since we were so hungry after traveling for 3 hours non-stop, our taste buds agreed to be Korean-ised!
My sister-in-law led us to KimchiHaru which is located in Jaya One
. We could easily find a parking space as it was still school holiday then. :)
Welcome to KimchiHaru.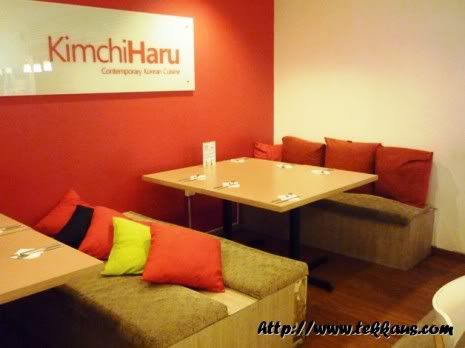 Red makes you hungry, right?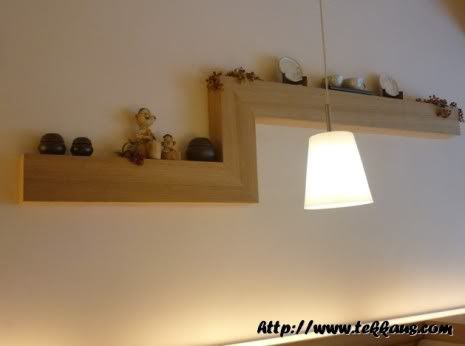 Chic decoration.
Green touch.
We were greeted by 2 waiters upon entering the rather small restaurant.
Instantly, I couldn't help but feel at home in KimchiHaru.
Why? I love the decoration in KimchiHaru which is very soft and subtle. Aww...I don't mind basking in such comfy ambiance while enjoying my food. Jordan boy utterly loved KimchiHaru. Besides...there were not many customers on that day. Menus were later placed on our table and we started to see what we should order. In the end, my sister-in-law who had been there several time "guided" us on what to eat. LOL :D
My suster-in-law (left), wifey and Jordan boy.
Wifey catching up with her sister.
Jordan was busy with his new toy-The Spoon!

Our Jordan~boy in KimchiHaru.
Honestly...I had forgotten (the names) what we ordered. After all I am neither a Hallyu fan nor a food specialist. I think we picked 3 different sets of dishes.
Me, being a carnivorous rice-lover, had Pork Bulgogi
which came with Bachan, Soup, Kimchi, Salad and of course rice. My wife and her sister both shared
a bowl of Kimchi Soup
and
huge platter of Jeon Platter
. Now what is so special about this
Jeon
Platter is that we get to choose 3 out of the 5 different Jeon (pancake-like dishes) which are: Prawn-Squid, Kimchi Green-Bean, Cheese-Kimchi, Fish and Buchu. Can you tell which 3 Jeons did we pick?
My Pork Bulgogi set meal.
Aww...look at those invitingly saucy pork. *drooling*
Salad and kimchi.
My delicate-looking bachan.
After waiting for about 15 minutes our meals were served.
Personally I love my Pork Bulgogi.
It was scintillatingly hot and succulent. And of course it went very well with white rice.Yum~yum. The side dishes were so-so to say the least. I enjoyed the hot bowl of Kimchi Soup. Perhaps it was my first time sipping such a soup with peculiar ingredients not known to me. Ha :D Last but not least our much-anticipated Jeon Platter landed on our table.
Kimchi Soup.
Last but not least a glass of Korean Coffee for me. :)
There were 12 Jeons altogether.
The 3 different flavours of Jeons that we picked were Prawn-Squid, Cheese-Kimchi and Fish.
The included spicy sauce really made these pancakes more delicious. To top it off I had a glass of Korean Coffee which tasted relatively good. All in all my wife, sister-in-law, baby Jordan and I really enjoyed ourselves here. It was a very good experience for all of us. The bill came at RM54 which is, IMHO very reasonable. So will we drop by at KimchiHaru again? Of course. :)
12-LG1 Block D Jaya One,
72A, Jalan University,
46200 Petaling Jaya, Selangor.