Have you ever been to Portuguese Settlement while you are in Malacca? Do you know that seafood is the main attraction in Portuguese Settlement? Yes, they have been renowned throughout Malacca or even Malaysia to serve one of the best seafood at an affordable price. I have been there once this year with my father-in-law. But today I am going to share with you a backdated post about our dining experience there. It was like...one year ago. Ha :D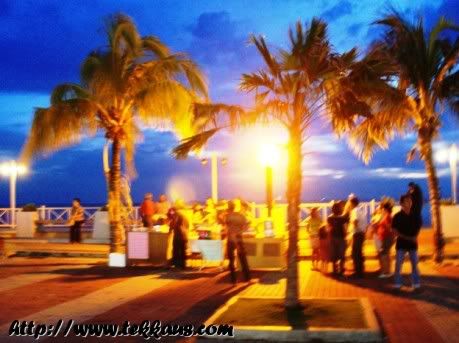 Portuguese Settlement at dusk.
Last year around December, my wife's sister came to pay her a visit. We just got married so she wanted to see how was my doing.
So my dearest wifey and I planned where we should bring her to have her dinner that night.
We were virtually clueless until we the word "seafood" propped up in our minds. "Why don't we have alfresco dinner at Portuguese Settlement?" So on that fateful Saturday night the 3 of us went to enjoy our seafood by the seaside.
My wife (right) and her sister.
The settlement is located around...10 kilometres away from our home. Once we reached there, there were several waiters waving at us while puffing their cigarettes. You see these waiters were from different seafood restaurants.
So the moment patrons parked their cars, they would "lured" customers to their respective restaurants.
We can't really blame them as they need to make a living and it is a very competitive market after all. So be prepared to be pounced by them when you are there ok!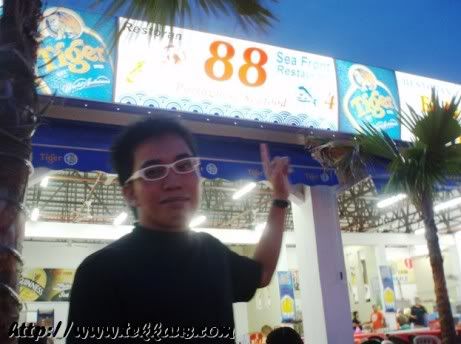 This was the restaurant which we dined.
There are altogether 8 different seafood restaurants. So you don't have to worry about not being able to dine here. But sometimes you do have to wait for awhile. All of these restaurants are of course operated by the local Portuguese.
I don't really know which is the best but usually 88 Sea Front Restaurant is my family's main choice.
After we have placed our order, we needed to wait at least half an hour for our food. So I was the one who guarded out table while my wife her sister were busy doing their sightseeing around the beach.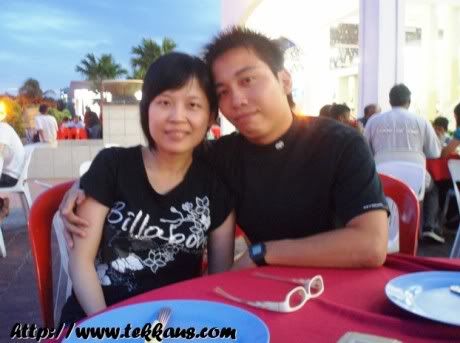 My beautiful wife and me-the beast. :D
We had around 5 different dishes and fruit juice. The first dish to land on our table was the spicily grilled seabass (siakap).
The fish was perfectly grilled as we sunk our teeth into its juicy meat.
I must say that the chillies blended well with the grilled fish. Yummy! Then the next dish was calamari fried with butter. Hmm....how should I describe about the Calamari? How about crunchy on the outside and juicy on the inside. Up next was the chicken curry. I wondered why we ordered this. Aren't we supposed to have seafood? Beats me.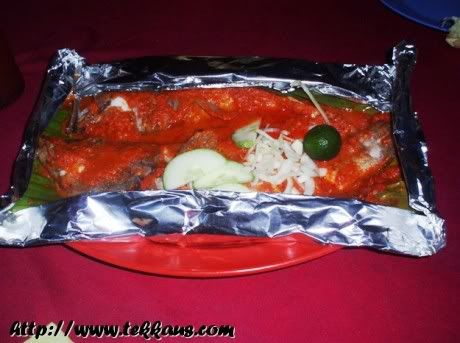 The hot and spicy seabass!
Our succulent calamari. How come the portion looked so little? :p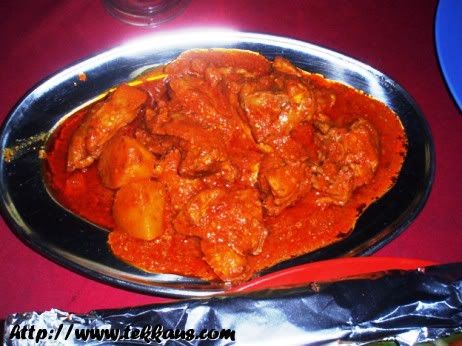 Why on earth did we order this chicken curry?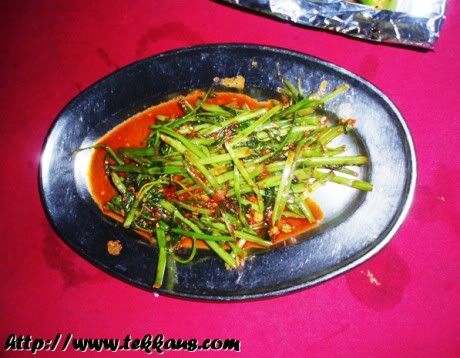 Kangkung? Where are the leaves?
The crabi-licious crabs. :D
They say no seafood is complete without vegetables right? And so we had a plate of kankung friend with chilly. Is it me....or this plate of kangkung was full of stems? Then last but not least...a must have for seafood diners...crabs! We ordered a large plate of dried spicy crabs. I am not a crabby kind of person, but both my wife and her twin sister were really enjoying every single parts of the crabs.
I bet they sucked all the flesh and every single juice that there was on the exoskeleton of the crabs.
LOL :D Well...this was what happened one year ago. Buuuuurpppp!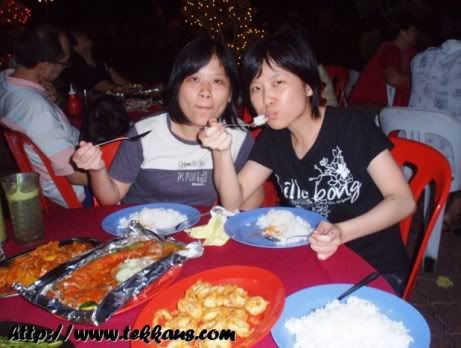 Let's makan~the alfresco way of course.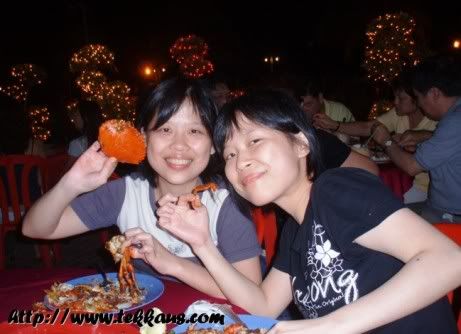 I told you they are crazy about crabs!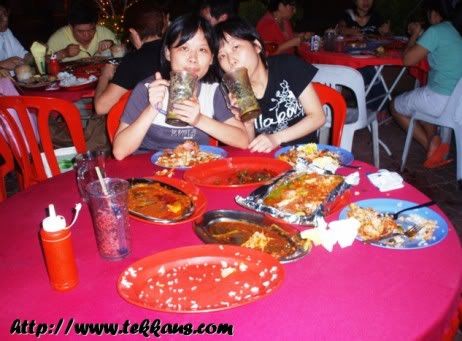 Done. The bill please...
The waitress came and I paid the bill. Guess how much the whole dinner cost?
Everything including those large juice drinks cost us around RM110.
What do you think? Is it expensive? I believe it was relatively affordable because at least 5 people could have joined us to enjoy the food that we ordered. The portions are really huge. And it is really a great place for family outing as it is just beside the sea. Nothing beats enjoying the food while being close to nature-ocean. :)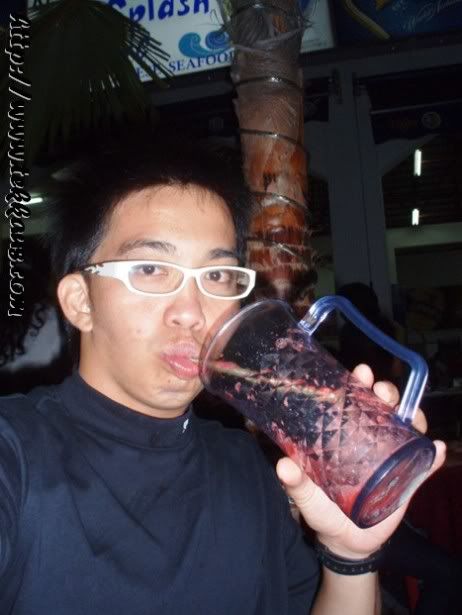 Sluuurpppp! I love my watermelon juice!
So if you were to drop by in Malacca and was thinking about where to dine for dinner?
Why not going alfresco at Portuguese Settlement?
I am sure you will enjoy your time here. Well...at least me and my wife did.