Can a child learn in an environment that is not ideal for him or her? I believe we once heard of a story whereby a mother had to move three times to a place to allow her son to be studious. Their first home was near a slaughterhouse...and the son actually learned a lot from to butcher...to slaughter animals; The second was near a cemetery and of course the little picked up how to conduct burials; Finally the mother decided to move to a place near a school...and voila...the boy had become a bright, diligent little kid. So I believe it's a lot about our environment. It's about conditioning.
Hence my wife and I truly believe that we should provide the kind of right environment for our Jordan boy and Jasmine girl to learn.
:)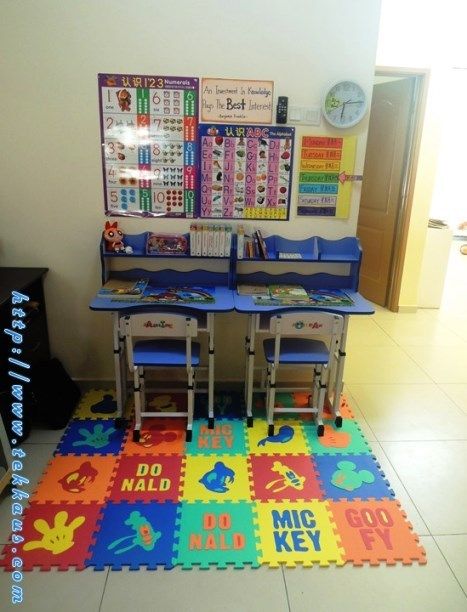 Jordan and Jasmine's study area. :)
First thing first, the study area shouldn't be in a bedroom. If not this kids will easily drag themselves to their comfortable beds and they will end up sleeping instead of learning.
That is why we have chosen a common place to be Jordan and Jasmine's study area.
In fact their study tables are right next to mine. So it will be quite natural for them to be having fun learning because "Daddy is beside us!" Ha :D Not really. But we want to instill in them that there is a right place to do the right thing...at least for now.
Their little study tables and chairs. Cute. Ha :D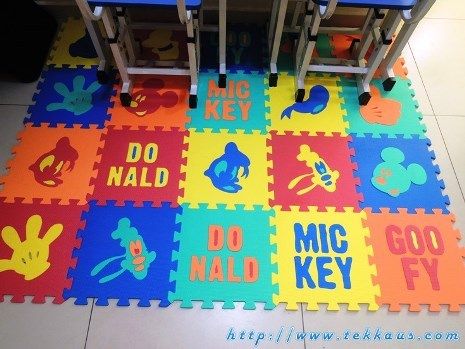 They love these colourful Disney mats of theirs.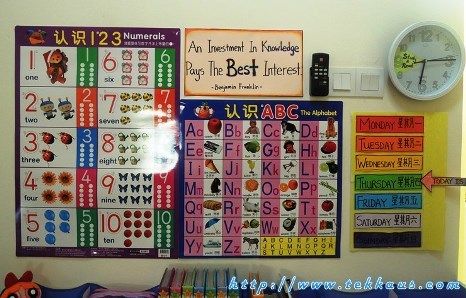 Ok. Here are something useful for them.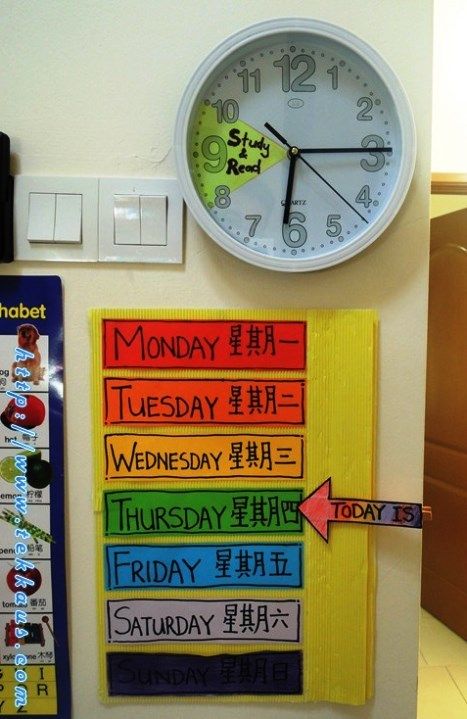 Time and day. :)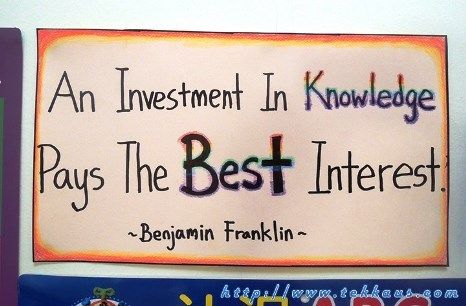 I hope they will always remember this quote. :)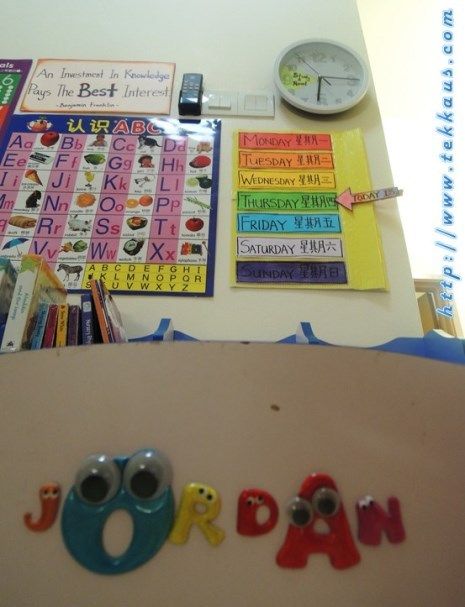 A touch of individuality. :p
My wifey and I had thought about planned this for some time and finally we were able to materialise this project of ours earlier this year. First thing first,
the children's study area must be able to attract them
.
Hence we have ensured that it would be colourful.
We put up useful posters of numbers and alphabets and even throw in a "Today Is..." chart to help the two of them get familiar with days. We even paced the flood with colourful mats to further entice them to linger in their area even longer. Ha ;D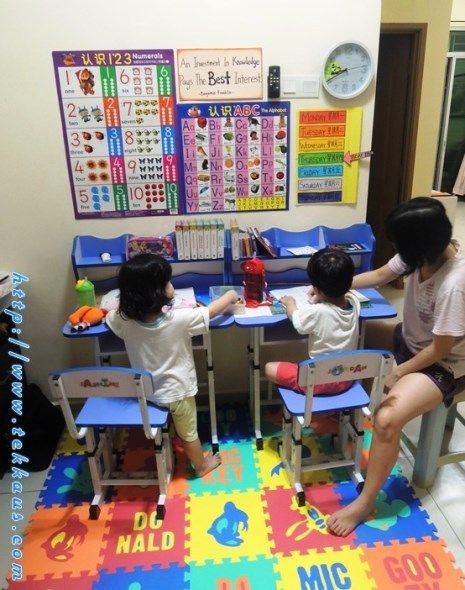 Every day wifey and I will spend some time guiding them. :)
Both of them really loved their study area. In fact they do spend quite a lot of time on and off in their study area, especially
Jordan boy who has started going to school
. The first thing in the morning when he wakes up, he will straight away go to his study table and start writing. The same thing happens once he is back home and before he goes to bed. Likewise, Jasmine girl has always enjoy colouring.
At times...wifey and I have to drag the two of them into our bedroom to make them sleep.
We really hope both of them will continue to be studious in the future...or should I say until they are old.
So yeah...we are really happy that both Jordan boy and Jasmine girl are loving their study area. We are glad that this Children Study Area that we have set up for them is really one of their favourite places to hang out at home. Ha :D Although it does need some money and effort and time but I think everything is worth it.
Yupe~my wife and I don't mind spending money on our children as we want to give them the best that we could like education.
After all they are only toddlers or kids...once...right?