It's always a joy watching my two little ones doing whatever that they are doing, especially when they are playing. Sometimes I can't help but feel that both my
Jordan boy and Jasmine girl have grown up way too quickly
. Thankfully I am not missing anything as I am with them most of the time. So during our last holidays, I visited my brother's condominium and they have got this cool, child-proof playground. Of course our two little ones were very excited to set their feet there. :)
Jordan boy balancing himself before taking his slide.
Mission accomplished. Look at his happy face.
It's Jasmine's turn.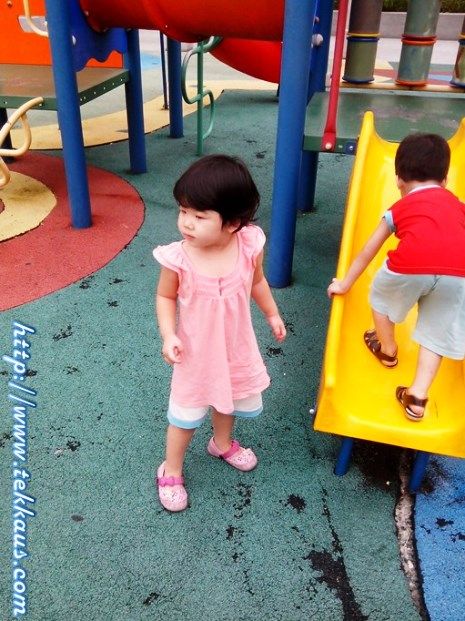 What else do you wanna play Jasmine girl?
The slide of course.
The playground had plenty to offer, ranging from the usual swings to seesaw and of course slides. Unlike the playgrounds in our neighbourhood, I feel more at ease allowing my two little babies to play here because it is safer for them.
The playground equipment are designed with toddlers and children in mind.
That is why the flooring of this playground is made of rubberized materials which is really safe for children if they happen to accidentally trip of fall. I have better peace of mind letting them loose here. Ha :D
Grandpa came to help looking after them. Ha :D
So are you happy Jasmine girl?
Playing seesaw with mommy.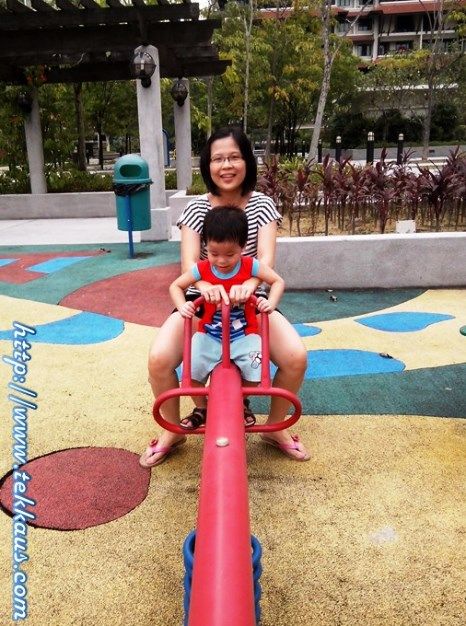 Let's bump. :)


Look at Jordan and Jasmine. So darn happy right?
After all it's not always that they get such a chance to play freely.
Yours truly is ashamed to say that I can't be able to bring them out to play on playgrounds except weekends. As they will only be able to reach home around 6++pm every day, it is virtually impossible for us to bring them out as they would still need their bath and dinner soon. Besides, it is not that safe. Anyway I am glad that my two little ones get to enjoy themselves from time to time. :)