Some time ago
2 years ago
, a new bakery called Butter & Olive Pastry House was officially open for business near our old home. It is really a famous bakery which is patronized by customers every day. So one day, my wife and I thought that we should pay this famous place a visit and we were really amazed with what greeted us inside.
Everything looked so beautifully edible in this bakery
. And of course the price tags were marginally higher compared to other bakeries.
From Butter & Olive Pastry House
Back then we were looking for something nice for our little babies. Jordan was 2 years old and Jasmine was only a few months old. After looking high and low behind the glass panels,
we had finally decided to buy Hokkaido cakes for our little babies.
We did grab a loaf of their famous bread as well...which I had forgotten what it was called. Fruit cake maybe... Then off we headed home to pick our babies home from the babysitter's place. :)
Hokkaido Cakes-we bought this for our babies.
Aww...look at those delectable icing. :D
Wifey is feeding our Jordan boy.
At home, the moment we took out the Hokkaido cakes, Jordan was happily jumping around, waiting to feast his treats. Hmm...obviously he had tasted the cakes before. Perhaps our babysitter's had bought some for him and his sister before this?
Jordan boy was so in love with the Hokkaido cake that he insisted on eating it on his own
, much to our delight. Jasmine girl...was a bit too young back then...so she wasn't really into it, was she? Ha :D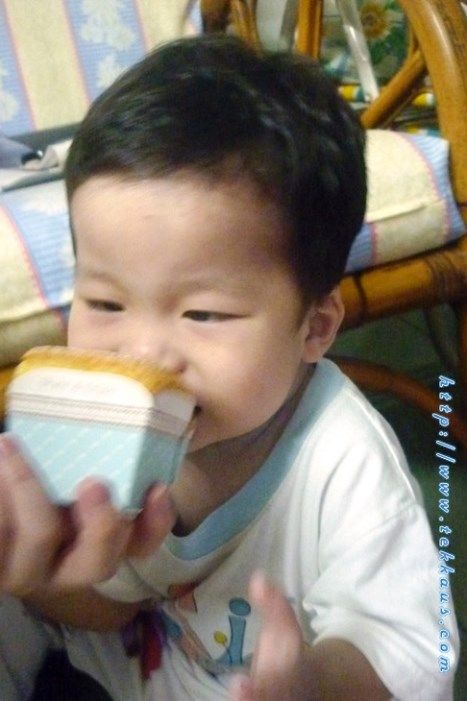 So how was it Jordan boy?
YUMMY!
Uh ouh...someone (little Jasmine) was not happy that only
Kor Kor got to lick the Hokkaido Cake. ha :D
Look at little Jordan's expression. Apparently he was savouring every single chunk of those fluffy Hokkaido cakes huh. Not to mention they were really creamy on the inside as well.
If these Hokkaido cakes are served slightly a bit chilled, then they would taste even more delicious.
The fluffy texture, the chilling cream...my...just let them melt in your mouth. Hmm....perhaps we should go grab some Hokkaido cakes right now for our little Jasmine didn't really get to it them back then huh. :)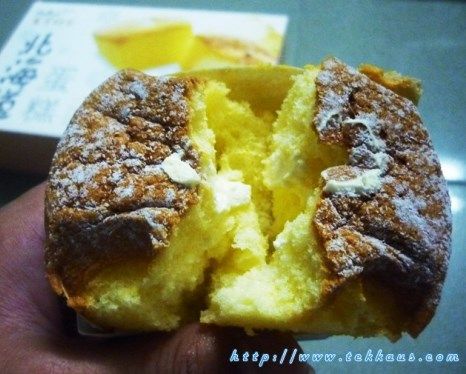 I want to eat Hokkaido Cake as well *drooling*