The most anticipated gadget of the year has got to be Samsung Galaxy Gear-the smartwatch that all of us have been waiting for months. Ahead of its official launch on the 4th of September,
Venture Beat managed to get leaked photos or screenshots from a marketing promotional video for the Galaxy Gear
. It appears that this unofficial Galaxy Gear sports a 3-inch screen with rounded corners. The wristbands look quite thick and clunky-enough to hold speakers in the clasp I assume.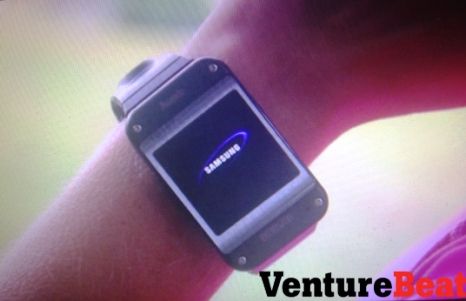 Samsung Galaxy Gear smartwatch?
Besides NFC, Samsung Galaxy Gear can also work with other smartphone using Bluetooth. It is claimed that there will be a built-in 4-megapixel camera. Apparently there will be Samsung S Voice for voice commands.
Being a touchscreen enabled watch, Galaxy Gear will allow you to access all the apps and functions on it easily
. You will be able to surf the internet as well. Rest assured that Galaxy Gear would be socially integrated and you can expect all the bells and whistles of Facebook, Twitter etc.
Battery wise, Samsung Galaxy Gear could hold up to 10 hours of juice for normal usages. I believe this is a bit too "short" if we were to use it as a watch replacement extensively.
Interestingly Galaxy Gear seems to be engineered to give Nike Fuel Band a run for its money.
So we can expect Samsung Galaxy Gear to be quite health-centric. There will be lots of health and fitness related features being fitted into the Galaxy Gear.
Here's how you can get healthy with Samsung Galaxy Gear:
While you're at the gym pumping some iron, the Galaxy Gear can track your health data, including steps, heart rate and calorie intake.
It has a built-in heart rate monitor to measure your heart rate anytime, anywhere.
There will be a highly customizable workout app that will help you to lose weight, gain energy or tone up your muscles according to your preferences.
Galaxy Gear can also track your calorie intake by taking photos of your meals.
So do you like this official leaked look of Samsung Galaxy Gear? Honestly I don't really fancy this version of Samsung Galaxy Gear. It look so cumbersome, huge and not attractive at all. I am sure all of us are expecting a smartwatch which is visually appealing and trendy. Samsung Galaxy Gear must look flashy and it must be a fashion statement. I hope this leaked Galaxy Gear is merely a prank. Right? From pragmatic point of view, I really hope that Galaxy Gear could pack more juice into their battery. 10 hours will not be suffice for someone like me
So let us wait for the real official Galaxy Gear on the 4th of September which is 2 days from now. Yay! :D