Some time ago...our whole family went to one of the famous restaurant serving baba nyonya food in Malacca-Ole Sayang Nyoya Food Restaurant.
This is actually my second time dining in this rustic restaurant which exudes so much Baba Nyonya culture in its simple decoration
. We love the cosy ambiance. There were probably around 20 of us from three different generations gathering for our mini family reunion. Heartwarming, it was, as most of us rarely had such opportunity to sit down together and enjoy a meal as a big family.
Address
: 198-199, Taman Melaka Raya, 75000 Melaka.
Business Hour
:
Lunch: 11:30am-2:30p.m.
Dinner: 6:00p.m.-9:30p.m.
Closed on Wednesday.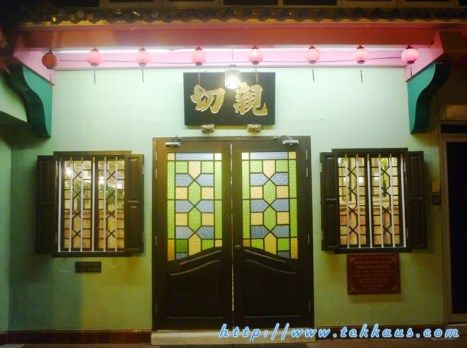 Do you like look of the entrance?
It is warm and cozy.
Located in Melaka Raya, Ole Sayang serves delicious nyonya food that will leave your taste buds tantalized even after you have left.
I wouldn't say that their dishes are authentic but they certainly are delectable.
Initially we had a hard time, trying to decide what we wanted to order as we wished to savour something different; something that we don't get to eat every day. Why? Because our family cooks nyonya food as well from time to time. Ha :D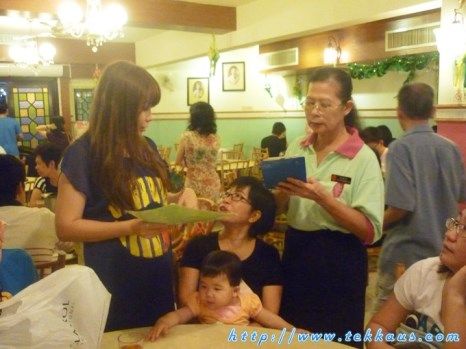 Let's start ordering our food.
My cousin and his family.
My uncle and aunt.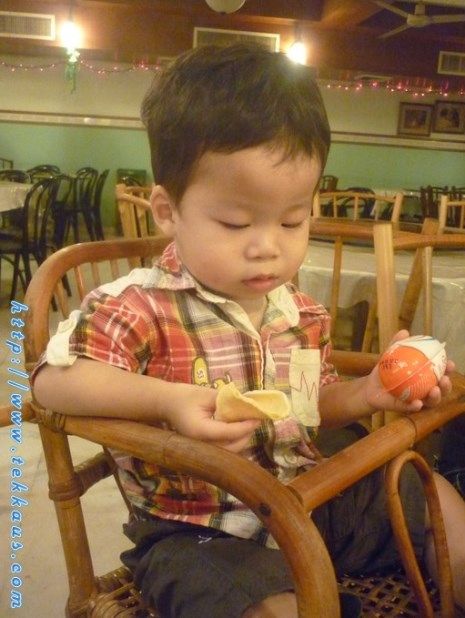 My son~which one do you wanna eat first?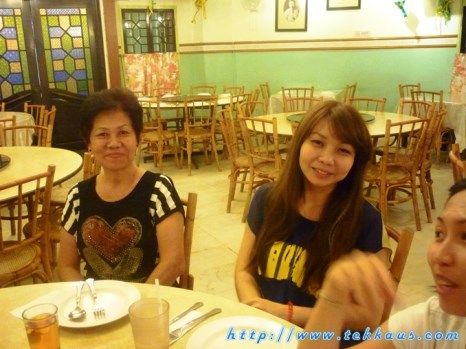 My aunt and my cousins.
Upon ruminating for some time, we had finally made up our minds with 8 different dishes. First up we had otak-otak (fish+prawn).
Even though it looked rather unsavory, the otak-otak was actually very, very spicily scrumptious.
Looks can be deceiving indeed. We also had kang kung fried with belacan which was not bad as well. If you like to eat "cencaru", you will love the next dish-Cencaru Omelet. The texture of the omelet was just nice and the aromatic cencaru will make you crave for more! *drooling*
Our next dish was boiled ladies fingers with sambal belacan. The ladies fingers were still young and they were perfectly boiled. Combine this with the toothsome sambal belacan, you are in for a crispy treat. Spicy black pepper brinjal was on our menu as well. Aww...of all the vegetables dishes, this is the one I loved the most.
The spicy black pepper brinjal was succulent and juicy, not to mention it gives you that hot and spicy kick in your tongue.
A must try at Ole Sayang.
We had something pretty unusual on this occasion. Our next dish was meaty but it was not chicken nor pork (of course)...it was lamb, black pepper lamb to be precise. Although I didn't really like the texture of the meat for it was a bit hard, I did enjoy the mouthwatering black pepper sauce that came sparingly with it. And of course no reunion dinner was complete without fish right?
As the saying goes "every year we will have plenty of fish" (年年有余) and surely we must have fish as one of our main course.
I give-deep fried fish with sweet and sour sauce. Crispy on the outside~lusciously smooth on the inside. Yum! Yum! :)
Last but not least our 8th dish for the day was tau fu soup. The soup was ok, flavourful enough to end our 8 course dinner. Wait...wait...how about dessert? Dinner cannot be complete without dessert right? So we ordered the nyonya cendol which was really, really sweet.
I totally loved it because there was a lot of coconut milk and gula melaka
. That pretty much bloated our stomach. *buurrrp*
Let the feast begins.
My son, wifey, daddy and daughter enjoying their dinner.
So how's your food?
Do you enjoy the food wifey? I think yes...your plate is almost "empty". :p
After walloping so much, we needed to digest our food a bit before we could move. So we did some exercise...we chatted. Ha :D I am happy to see all of us get together to catch up a bit.
It was a great family outing.
Hopefully we can continue with this tradition from time to time. :)
Remember Jordan boy~family is the most important.