The much anticipated Facebook Phone has finally been unveiled. However it is not a smartphone that Mark Zuckerberg and his team build from the scratch; Instead it is the company's very own Android flavour custom-made for a HTC brand new phone-HTC First! It is aptly named so because HTC First is the first smartphone to be optimized with Facebook Home. HTC first will be launched exclusively by AT&T in 12th April 2013 for US$99.99. I would say that this new sexy HTC First is a big phone (4.3inch) but not too big.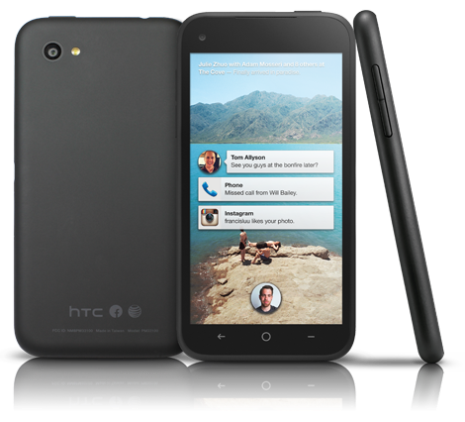 HTC First with Facebook Home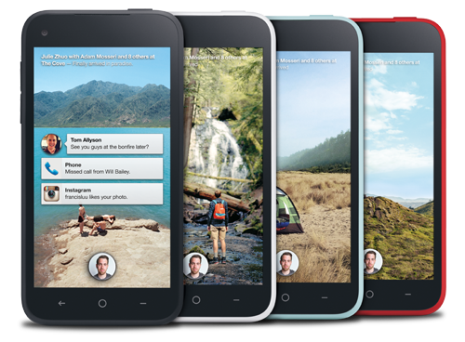 Different flavours: Black, White, Pale Blue and Red.
HTC First will be available in available in 4 different colours: Red, Black, White and of course blue...Pale Blue to be precise.
HTC has called its First "the BEST Facebook experience" and the "ONLY phone with Facebook Home pre-loaded and optimized."
So First will have all its email notifications and calenders to be integrated into Facebook Home. Besides, it is also the first smartphone to come with preloaded Instagram. Another "First" aye?
On paper, HTC First appears to be a mid-range smartphone with
dual-core Snapdragon 400 processor with 1GB of RAM, Android 4.1 and a 4.3inch 720p glass display
. HTC First is slim and light. Its rounded edges and matte rubberized shell will give you a comfortable and pleasant feel when you cradle in your hand. Facebook Home is actually a suite of apps and a home screen replacement for your ordinary Android phones. Do note that Home it's not just a new UI for launching apps. Instead it replaces the lockscreen with Cover Feed and prioritizes updates from people in your Facebook instead of apps.
Watch how the new Facebook Home works on HTC First

How to use Facebook Notifications on Facebook Home
How to use Chat Heads on Facebook Home
How to use Cover Feed on Facebook Home


The focus that Facebook Home wants to bring is the full-screen images that are your new welcome screen. There will be status updates from your friends that
you can easily flip through and double tap to like when someone posts something the you like
(of course). Likewise normal text status updates are placed over a user's cover photo. This will keep the appearance consistent with photo-centric posts. I am sure Facebook addicts will be loving HTC First for all these cool features.
Facebook Home~is this your Nirvana, Facebook addicts?
HTC First also has another interesting feature tightly integrated into it which is Chat Heads. Chat Heads is actually Facebook's messaging app which intricately built into the phone,
allowing you to quickly and easily talk to your friends without leaving whatever app you are opening
. Chat Heads appear as circular icons on the right. The cool thing is you can drag to place them anywhere you like. Awesome! Then again, Facebook Home will be available for other smartphones as well such as
Samsung Galaxy S3
,
Note 2
, HTC One, One X+ etc. Then again it is claimed that none of them could rival the ultimate experience that comes with HTC First.
So what do you think about HTC First which is optimized with Facebook Home. I am sure those who use Facebook a lot will appreciate it a lot. Now you can be more connected to Facebook. I guess HTC First will only be arriving in Malaysia somewhere around the second half of the year. How will HTC First be priced in Malaysia? I don't know...around RM1,000 for the very "First" Facebook Phone?