Can you believe that I had never ever tried a slice Mille Crepe Cake for the 25 years? How pathetic aye? I am glad that at the end of last year, I had finally tasted a slice of this delicious mille creme cake. Where else in Malacca can we get our mille crepe other than the
Nadeje
right? Honestly...after my first encounter with mille crepe at Nadeje,
I have to concede that it is the one of the best cakes I have ever eaten in my entire life
. It even comes mightily close to beat my favourite
Chocolate Royal
. So have you tried mille crepe before?
Nadeje Cafe-The Place Where Mille Crepe are made!
Do you know that Nadeje serves a whopping 18 different flavours of mille crepe? That's a lot of choices aye. So far I had only eaten like...maybe 7 of 8 different flavours; Meaning that I need to go to Nadeje at least a dozen of times some more enjoy the remaining flavours of mille crepe. Then only I can consider myself to be a "certified, professional" mille crepe taster. :p How about you guys? Anyone of you have tried all the different 18 flavours?


Mille Crepe...the name sounds rather "crepe-y" right? Do you know what's the meaning of mille crepe? First thing first, you need to know that mille crepe actually originates from French. So that means both mille and crepe are French words. Crepe actually means a thin layer of cake whilst mille means a thousand layer. So now you know why
mille crepe is more fondly known as thousand layer cakes
. Of course...it is impossible for Nadeje to stack 1,000 layers of cake to be consumed by us right....or can they? :p However Nadeje's mille crepe cakes does not come from France...they came all the way from the land of rising sun-Japan.
So what's your favourite flavours of mille crepe? As for me and my wife...our favourite choices of mille crepe at Nedeje are Tiramisu and Mocha flavours. That's exactly what we ordered during our first visit there. I think we needed around 15 minutes to choose our mille crepe...because there were too many flavours. :/ As for beverages...my wife ordered...don't know "mango" drink...haha :D How about me? Of course coffee~lah! And no cake (including mille crepe) will be complete without a perfectly brewed coffee more so if it is illy Cappuccino. Aww...so heavenly...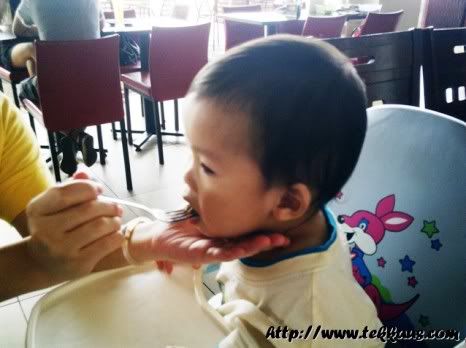 Jordan boy got to enjoy mille crepe as well.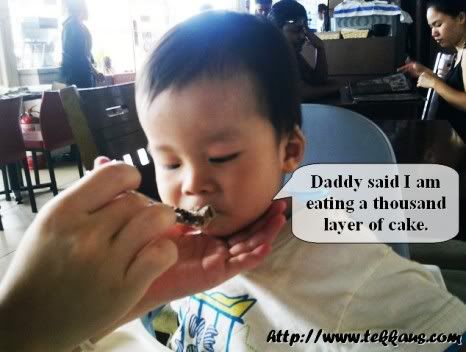 Do you love it darling boy?
I will never ever forget the very first time I savour my very first scoop of mille crepe...
the very moment my taste buds were carressed the luscious crepe...aww
...it's like a thousand fireworks were set off in my mouth. The texture, the flavour, the density of the mille crepe...you can literally feel how it melts in your mouth. It's neither too sweet nor too creamy...just nice. Top it up with an aromatic coffee...and wow...I feel like I can eat mille crepe cakes for another thousand times. :p
Awww...me? illy cappuccino~:D
So where can you get your Mille Crepe? If you are in Malacca, there are 2 places where you can savour your Thousand Layer cake. The first one was on the top of Dataran Pahlawan, while the other Nadeje is located in Melaka Raya.
Both my wife and I really enjoyed the ambiance in Nadeje.
It is very cozy and calming. A great place to unwind and relax. So have you eaten a mille crepe before? It's time for you to taste the richness of this thousand layer cake. :)
So who wanna have mille crepe?
P.S.: I usually dine at the Nadeje in Dataran Pahlawan. But sometimes it is hard to find a parking bay there. So perhaps you can enjoy your mille crepe at another Nadeje which is in Melaka Raya. Wanna know how to get to Nadeje Cafe at Melaka Raya?
Nadeje Cake House
G23 & 25, Jalan PM 4, Plaza Mahkota,
75000 Melaka.
Contact: 06-2838750