How did you celebrate your Valentine's Day?
My wife and I actually celebrated this special day one day in advance.
Meaning that we had our romantic dinner a day earlier which was on the 13th of February. I wanted to have candlelight dinner with my wife...and of course it was impossible as we had to take care of our 2 babies later in the evening. So we had our normal, non-fancy dinner instead at? My wife and I roamed the Food Arena of Jusco to see what we could eat but in the end we chose Sushi King. Haha :D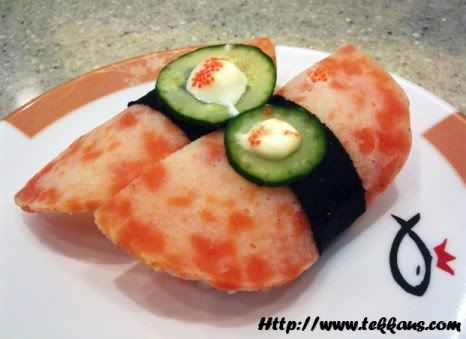 New-Salmon ham sushi?
My wife and I had our dinner early at 4p.m. because the both of us were FREE from 4p.m. till 6p.m. We would be fetching both our little angels back home at 6:15p.m. So we only had little time to spend together romantically. Actually both my wife and I loved to dine in Sushi King
as this chain of restaurants hold special memories for the both of us
. I think we will continue to patronize Sushi King until we are damn old. Then we will talk about the times we spend together when we "were" young. Can't wait to grow old with my wife. :p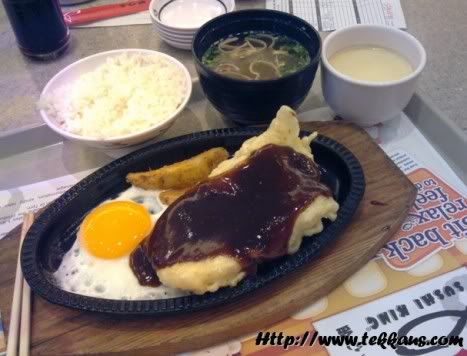 For me-Sakana Black Pepper.
For wifey-Mixed Bento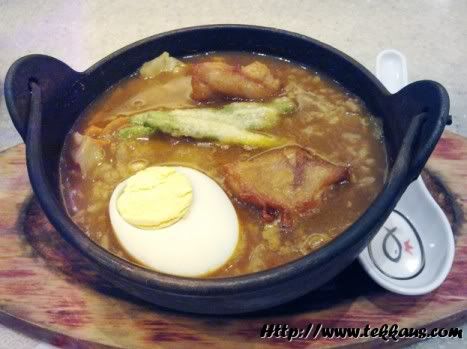 For the both of us-Curry Rice. :)
So what did we had for our romantic occasion? For me...it is always Black Pepper Sakana (fish) Set. I am very loyal huh! My wife ordered the Mixed Bento set where there were chicken and salmon.My wife and I also tried something new...I think it was Curry Rice. There were chicken, egg, deep-fried friend and of course rice. Not too bad. Besides that we also grabbed a few plates of ala carte sushi off the conveyor belt. We tried the sushi which was made into "ham". It was nothing to shout about...
BUT the spicy fried salmon fillet was so damn delicious
. We took 2 plates of these sinfully yummy (not to mention oily) salmon fillets. Nom~nom~nom~:D OMG why didn't I take another plate?
After...*BURPPP*...sorry...so after my wife and I were done. We went to Chatime to grab ourselves chilled bubble milk tea.
The both of us sipped our heavenly bubble milk tea while walking around Jusco
. Aww...food and drinks always taste better when you are having them with your beloved ones huh! I held my wife's hand tightly as the both of us were walking around sightseeing...I felt like the both of us were young again... :p Although our Valentine's date was simple and short...it was really sweet and memorable. I love you wifey~:-X