I have always thought that Malacca serves the best Wan Tan Mee (Chinese Dumpling Noodle) in the whole Malaysia. I kept on boasting about how tasty the noodle was; How crispy the wan tan tasted like...until I tried the Wan Tan Mee in her hometown.
After eating the Wan Tan Mee in Taiping (Perak)...I think it should now be crowned as the new best undisputed Wan Tan Mee in Malaysia.
I loved the Wan Tan Mee in Taiping so much that I ate them 3 times in the space of 2 days. So tasty that I kept on pestering my wife, telling her that I wanted to go out on my own to eat Wan Tan Mee when I was back in her hometown. LOL :D
Welcome to Prima Coffee Shop. It is air-conditioned. :)
Of course there are many Wan Tan Mee stalls in Taiping and most of them serve relatively good Wan Tan Mee. But if you really a Wan Tan Mee-holic, and want to savour nothing but the best Wan Tan Mee in town...then
you should try the legendary Wan Tan Mee in Kedai Kopi Prima Coffee Shop
. So far it serves the best Wan Tan Mee I have ever eaten in my 26 years of life. That's a rather bold claim right? But believe me, it is the best of the best. :)
Father-and-son Wanton Act!
The moment you enter this coffee shop, you need to find a numbered "empty" table. In other words you need to be seated first.
With the number of the table, then only you can place your orders at the Wan Tan Mee stall.
If not they won't be entertaining you. If you were there, you would be able to see an uncle busy cooking the noodle while his son would be helping him to add the other ingredients such as vegetables and of course...Wan Tan (dumplings). Then a helper (a maid) could be seen toiling with the tray to serve Wan Tan Mee.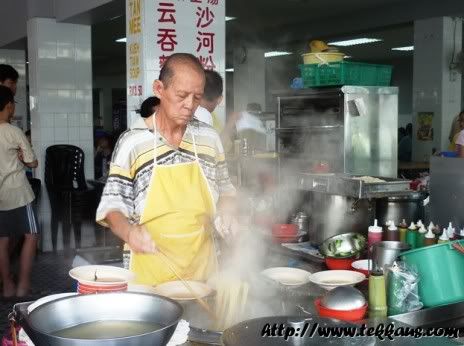 The noodle is being expertly cooked!
After waiting for almost 20 minutes...my plate(s) of Wan Tan Mee had finally made it onto our table. My mouth was already watering.
My taste buds were jumping excitedly upon seeing the generous portion of char siew, minced meat and wantons.
Aww...what a sight to behold. I immediately used my chopstick, grabbed the noodle and lifted it...the fragrance of the noodles that oozed out after being "trapped" made me even hungrier. "It's feasting time!" Nom~Nom~Nom~Nom~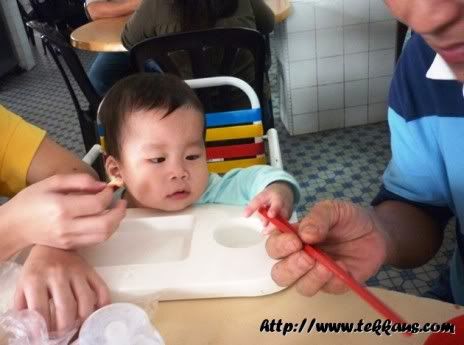 Seems like Little Jordan is interested in using the chopsticks.
Now what's so special about the Wan Tan Mee in Taiping? Is it so much different from the ones in Malacca? Aren't all Wan Tan Mee should taste the same? I thought so too...but the moment I had my very first bite, I knew it was a whole different story. Unlike the noodle used in Malaccan Wan Tan Mee, which is thinner,
the noodle of Wan Tan Mee in Taiping is broader and more springy.
Moreover the noodle is made with lots of eggs, hence enhancing its overall texture. Apart from the noodle, the flavouring and sauces used are completely different as well. 2 words: Damn Delicious!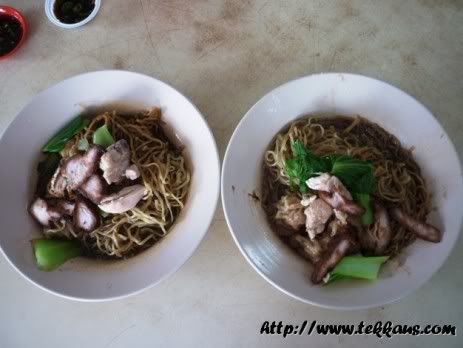 Our Wan Tan Mee.


So darn appetizing...


Let's eat our springy Wan Tan Mee. :D
So have you tried the Wan Tan Mee in Taiping before? Do you enjoy it as much as I do? So far I have tried the Wan Tan Mee in KL, Penang, Johor, Malaccaand of course the latest one is Taiping, Perak.
Hmm...I wonder how are the Wan Tan Mee from other states taste like.
If you think the Wan Tan Mee at your place is the best, do recommend it to me. I might try it one day. So if you happen to be in the City of Rain, do try the Wan Tan Mee at
Prima Coffee Shop
ok. :)
Prima Coffee Shop
# 21, 23 & 25 Jalan Kota,
34000 Taiping, Perak.
GPS coordinates : 4°52'34"N 100°42'19"E
P.S.: There will be more food being sold at night. It's like a haven for food lovers. :)