Last Friday my wife, little Jordan and I traveled 500km up North to celebrate my father-in-law's birthday. It was a surprise for him as we did not tell him about our homecoming. When we arrived he was still sound asleep. We wanted to "ambush" in his bedroom but were afraid that we might startled him. Hence we waited for him to wake up. So when he got downstairs and saw all of us back at home...he was so taken aback...the smile on his face said it all. Ha :D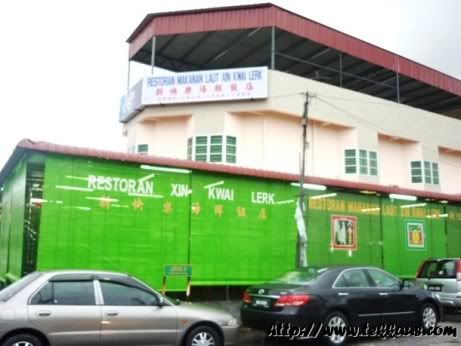 Xin Kwai Lerk Seafood Restaurant-The best in Taiping?
S13, Medan Councillor,
Aulong, 34000 Taiping, Perak.
My father-in-law's birthday was supposed to be today (21st March) but as all of us are working so we had to celebrate slightly earlier. No birthday is complete without the customary family reunion dinner right?
So on Saturday we headed towards our favourite eating spot-Xin Kwai Lerk Seafood Restaurant.
This is the place that we will never fail to whet our appetite during our every homecoming. Sounds like we are addicted to the food here aye. :p
While waiting for our dishes...
Let's sip our tea shall we?
Little Jordan busy playing his toy.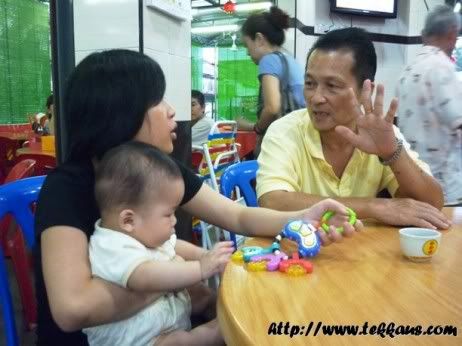 Wifey catching up with her father. :)
Jordan ready to "mam mam"?
Xin Kwai Lerk serves the best, affordable seafood in Taiping. Have you been to this restaurant before? If you are interested to pay this restaurant which is situated in Aulong a visit....my advice is come very early.
In fact you have to come as early as 6p.m. to reserve your place or you can book via their hotline (016-4531663)
. If you come late, I am afraid you have to wait maybe close to an hour before your hunger pangs will go way while looking at other people dining. :p
Our spicy fish. I am not a fishy person but this was not bad at all.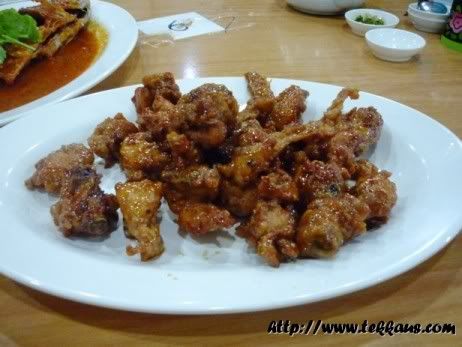 My favourite-marmite chicken! :D
luscious "yau mak".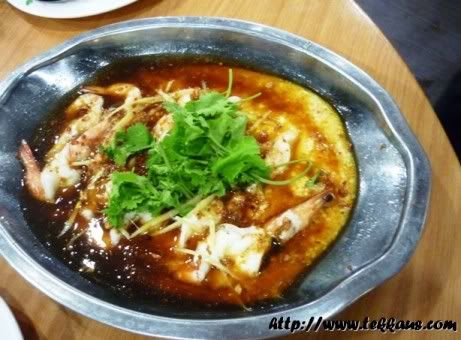 Succulent shrimps. :)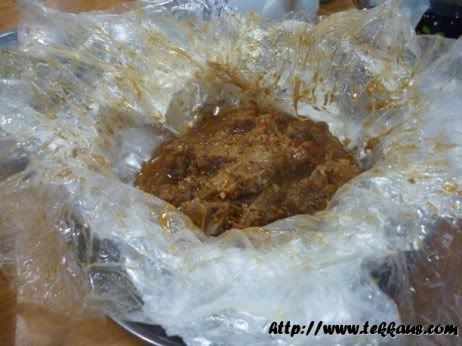 Toothsome ribs for your teeth! :)
As usual my father-in-law would be the one who marshaled his orders from the menu. Altogether we satiated our crave with 5 different scrumptious dishes. We started our feeding frenzy with their spicy fish. Up next we had their
mouth-watering, heavenly flavoursome Marmite chicken which was undoubtedly the best food on the table that evening
. Then we had their stir-fried vegetable (salad I think?). I can't really comment on the vege as they were gone within minutes.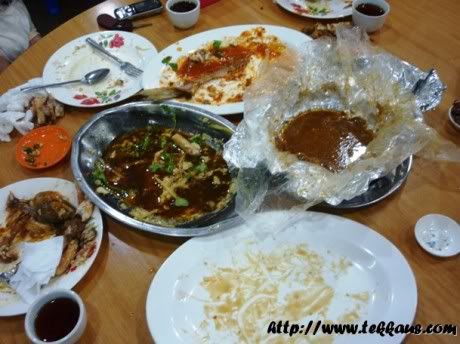 Done. Buuurrppp.
The next dish that landed on our table was huge, spicy shrimps. I think the spicy juice really seeps into the flesh of the shrimps. The moment your have a bite on them...OMG...
the juice will immediately flow squirt out of the tender, orange flesh
! Last but not least we lick our fingers with the final dish-baked pork ribs. Yummy! These pork ribs are quite delectable too. The only downside was because it was not meaty enough....because they were ribs~mah. Ha :)
My father-in-law carrying little Jordan after his dinner. :)
All in all it was a very satisfying dinner. Partly because I got to eat the lion's share of my favourite dish-marmite chicken. Muahaha :D Most importantly all of us are happy especially my father-in-law as
this is his very first birthday dinner with his very first grandson-little Jordan
. We can see my father-in-law was all smile while carrying little Jordan right? I would too. More to come for sure.:) Our delicious dinner cost us around RM60 including 2 teapots of Chinese tea. So if you happen to come to Taiping, you might want to try Xin Kwai Lerk Seafood Restaurant.