Last week my wife and I celebrated our
5th Anniversary
. Guess where did both of us commemorate our blissful moment? It's not a secret as I have foursquared about it right? Yep! Wifey and I decided to enjoy our dinner together at Secret Recipe in Dataran Pahlawan. Like I told you in my previous post, we don't need to look at the menu to pick our food because
Chicken Cordon Bleu is the best in Secret Recipe
. In fact...that is the only reason why my wife and I keep on going back to Secret Recipe. :p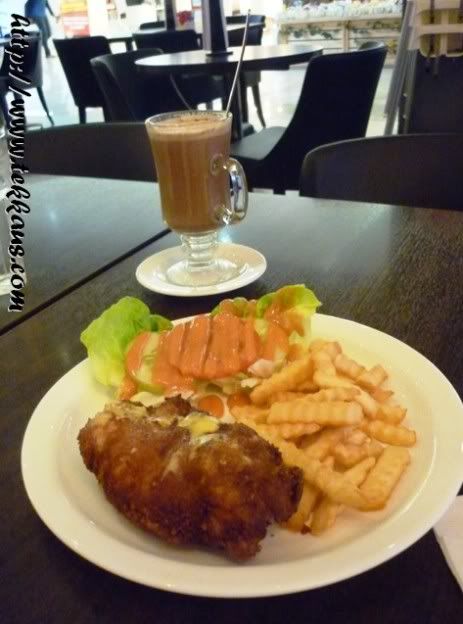 Chicken Cordon Bleu anyone?
So what's your favourite food in Secret Recipe? IMHO Chicken Cordon Bleu is undeniably their best food in their entire menu. I can't find another food which is even close enough to be mentioned in the same breath as my favourite Chicken Cordon Bleu. Heck! That's why it is called as blue ribbon chicken. Made from tender chicken, juicy ham and irresistible cheese, Chicken Cordon Bleu is simply a plat du jour (food) fitting for those who want finer food in life.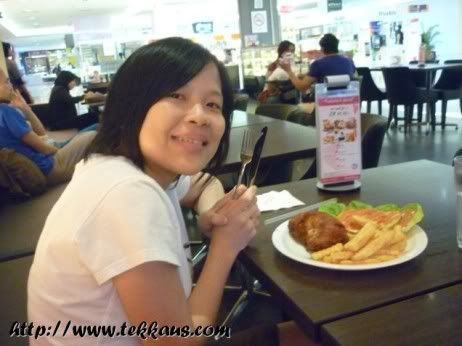 My wife and I love Chicken Cordon Bleu. :)
I must confess that the chef in Dataran Pahlawan must be the best in Malacca...at least the Chicken Cordon Bleu that he/she dished out for us is the best. Once served on our table, both my wife and I couldn't help but admired at our golden brown Chicken Cordon Bleu. Then we grabbed our fork and knife...and started slicing this gourmet's food. At that very moment...the hot, savoury cheese started oozing out. Now imagine those hot cheese slowly streaming down your tongue...OMG! I am salivating right now...my mouth is watering...now let's have a close up...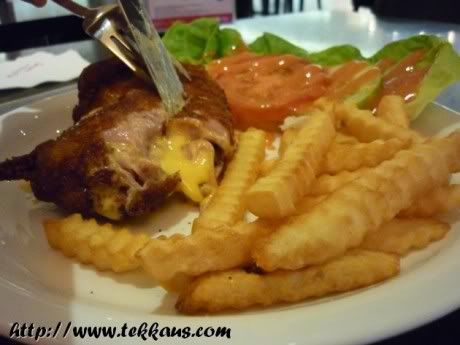 Ready to savour this delicious chicken?
OMG! Just look at how the cheese was oozing..
This is my Chicken Cordon Bleu...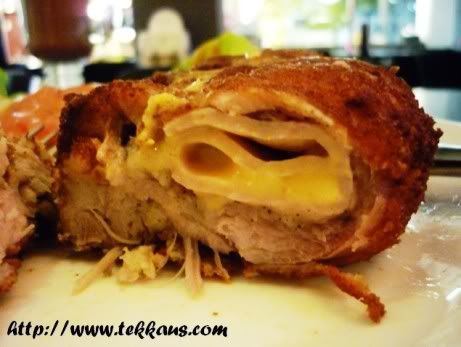 Look at the cheese flowing out through the rolled ham...
Goodness...I wish the cheese is flowing into my mouth right now...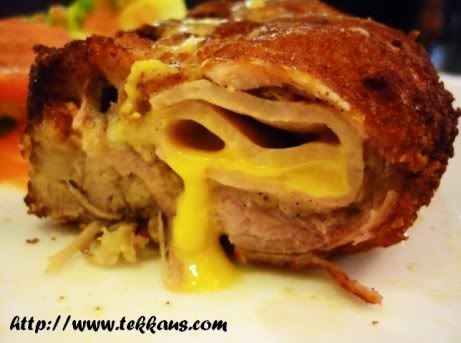 Simply...cheesy right?
Besides that we also ordered a slice of Chocolate Indulgence. Perhaps it was our anniversary, the cake tasted so delicious. Moreover I also had a glass of Mocha...I think. My wife and I really enjoyed ourselves.
It's good to sit together, chat and enjoyed the food that both of us love.
Later we went to watch a movie. All in all it is all about us spending quality time together. :)
Our Chocolate Indulgence.
Sky juice and Mocha.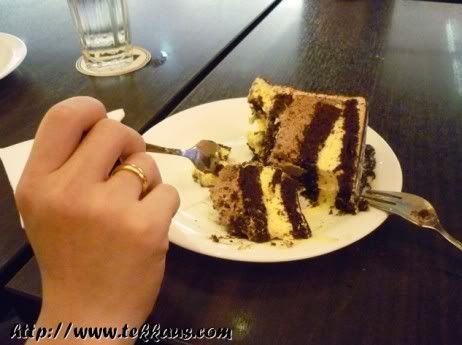 I love to eat with my wife. :p
Last but not least...have you tried Chicken Cordon Bleu before? If not please try it...you will thank me for recommending you this insanely toothsome dish.
It's finger licking good I tell you.
Sink your teeth into Secret Recipe's heavenly cheesy Chicken Cordon Bleu and tell me what you think. :)