Yes, now I am really, really famous.
My handsome face can be seen in
DiGi's Prepaid So Easy website
! My pretty face with the goatee sticking out finally can be seen by thousands of Malaysians especially DiGi users. Haha :D Ok!I know I am really ugly. I admit it but please don't be so scornful with me~lar. But just for the fun of it, yesterday I joined the
Digi Prepaid so easy contest
and submitted my face for the fame contest. So what will I get from DiGi if I happen to be top 20 famous faces? I will be featured in all DiGi ads. But I know it is unlikely. :p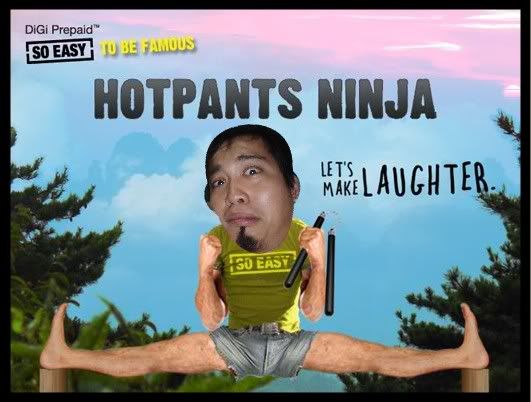 I realized so far there has been an encouraging
9428 views of my ugly photo and 3 thumbs up
. Not bad for a jerk-looking guy like me right? So I consider myself to be relatively famous for a while. Haha :D For those of you who have voted for me, thank you very. If you haven't please click and view my image.
And if you think my ugly face deserve to be famous please click the "vote button" below and give me thumbs up
. And help me to spread the words ya. Ha Thank you :D
Heee~yak! Thanks for making me a famous Hotpants Ninja at DiGi folks. Have a great day! :D