After snapping around and loitering at
Kampung
Midvalley
,
wifey
and I wanted to fill our tummy. It was already 2pm then. "To go for Manhattan Fish Market or to try something else in the Garden?" Both of us are still undecided. But since we had
MFM
a few months ago in
KLCC
, we made p our mind to let our taste buds try something exquisite.
We wanted to relish something we won't have in Malacca.
Then both my wife and I ventured out of
Midvalley
into the the Gardens. That was our maiden visit into the Gardens.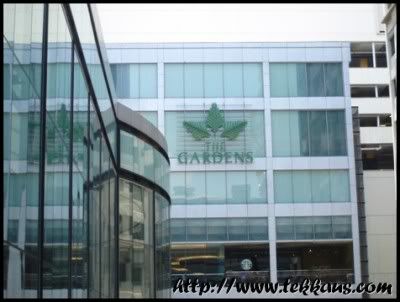 We were awe-struck to witness Gardens with our own eyes. All this while, we didn't have the opportunity to step into this luxurious mall. The designs and architecture of the Gardens is very much, different from
Midvalley
. Everything here look classier compared to their older sibling. A lot of zen and touch has been applied. But
somehow Gardens is a little bit "colder" compared to the friendlier

Midvalley
. Some part of the Gardens was really human-less when we were sight-seeing. Or perhaps we are just used to
Midvalley
. :p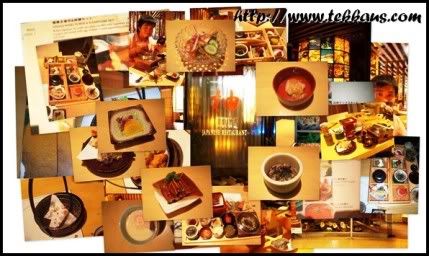 Our next pit stop!
After scouring the Gardens for quite a while, we decided to settle down and satiate our hunger. There were several food restaurants that really grabbed our attention but
in the end we have chosen

Yuzu

to gratify our needs
. All thanks to
Foongpc's

Yuzu

recommendation
.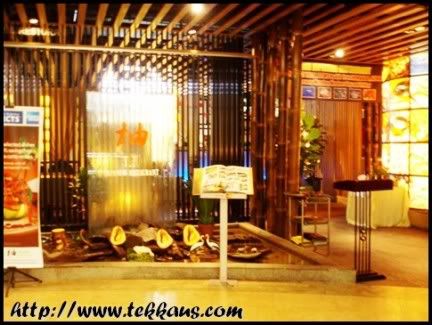 We were greeted by a rather elaborate decoration at the entrance. There was even a small pond housing several cute dancing
koi
. :D Then we were asked to choose between smoking and non-smoking areas to dine in. Of course we chose the latter.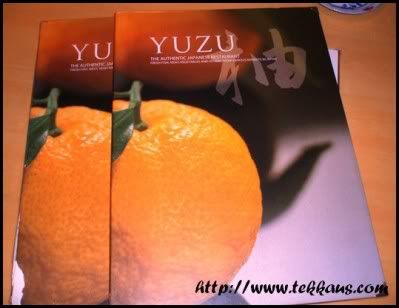 So what should we eat?
Simple and yet elegant.
The environment is very soothing and I love the warm ambiance. After we had placed our orders I roamed around the restaurant to admire its decoration and its amiable atmosphere. I like
Yuzu
I must say and their waitress are really helpful.
Wifey
and I was quite hungry.
We were chatting about our next destination and then it came-our appetizer!
Aww
...welcome
Ishiyaki

Geso

Mayonnaise
. It was squid tentacles with mayonnaise wrapped with aluminium foil and grilled on a hot stone. The taste was so glorious! This is certainly one of the a la
carte
meal you should try at
Yuzu
! Then our next a la
carte
Geso

Tatsuta

Age
made its way onto our table. These deep fried squid tasted just nice. Yummy! :p
Ishiyaki

Geso

Mayonnaise-Simply the BEST!
Geso

Tatsuta

Age-Not bad. :)
After our tongue had tasted the appetizers, we will be bracing for our main meal! My
Unagi

&

Soba

&

Takikomi

Gohan

Set
settled first. Gosh I never thought it will be so huge. The meals are nicely placed in a...er...special "tray"? :p A few moments later, my wife's
Yuzu
Bento
landed. I thought hers was equally large too, if not larger.
Mine. Sorry for the blurry pic. :p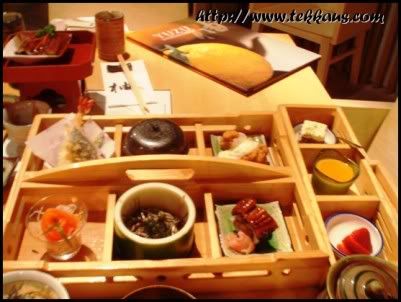 Wife's

Bento

Set. Looked more delicious than mine. :D
There were so many food in our respective meals. But the portion for each of it could be a little bigger. Greedy me. :p Well...after visually admiring the food for awhile,
wifey
and I started to let our taste buds do the talking! "
Itadakimasu
!" :)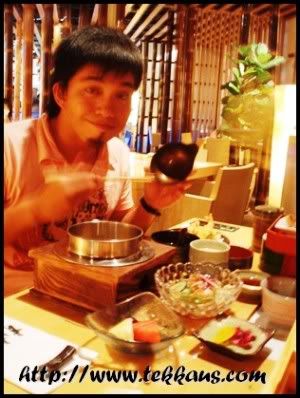 I really enjoyed the meal a lot.
Hmm
...perhaps I have never tried such Japanese cuisines before? There a variety of weird stuff that I have never seen before. For example the...err...noddle soaked in cold soup? :p But of all the foods, my favourite was still the raw salmon slice. Yum! Yum! The
Unagi
made me wanna puke. I guess I just don't know how to appreciate it. An acquired taste for the smelly
Unagi
I bet?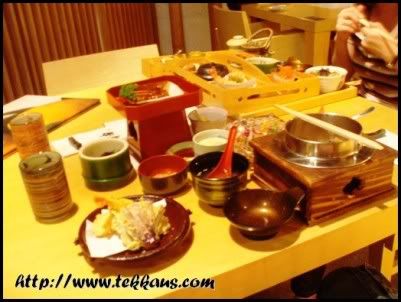 Yum! Yum!
By the time we finished our meal we were very quite full already. Our next food stop, Manhattan Fish Market has to be scrapped. It was indeed an enjoyable treat for both of us.
The whole meal

costed

around RM120.
Indeed an expensive indulgence huh! But I really had a great time with my sweet heart at
Yuzu
! Will we be here again? God knows. :p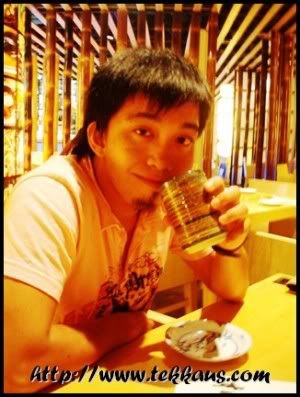 Burrppp

...that's all folks. :D