This has got to be the weirdest chandelier I have ever seen in my entire life. Behold a chandelier that is not only organic to begin with, it can magically "turn your room into a forest". Besides being installed as lighting, this Forms of Nature Organic Chandelier is able to unleash its own magic once it is turned on.
This unbelievable chandelier uses shadow and scale to mimic roots and trees inside spaces, amazingly recreating a FOREST effect for your home.
Goodness...who would have thought of such brilliant design idea?
Forms In Nature Chandelier was designed by
Hilden & Diaz
and it was claimed to be partly inspired by Darwinist Ernst Haeckel's detailed plots from nature.
The "forest art" is mirrored around the horizontal central axis and forms a circle 360 degrees around the light source.
When it is not switched on, the chandelier itself is attractive enough to grasp your attention. Once it is illuminated, you will be dumbstruck by the "forest effect" that the chandelier create. I am completely in awe...
Behold: "Forms In Nature"
Isn't it beautiful
Somehow I can't help but feel it is a bit "alien"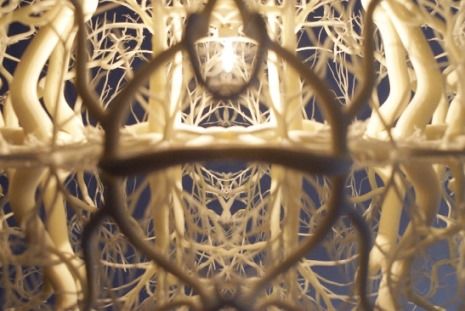 Divinely intricate
Watch its magic.
I believe it took the creators a lot of time to painstakingly create this Forms In Nature Chandelier. One would thought that the chandelier is actually something alive...or something that was taken right from a forest to be displayed in the room as interior.
Initially this chandelier was created as a one-off project
, but thanks to overwhelming support, the creators are sourcing funds to mass produce this organic chandelier. Will you buy this mystifying chandelier if it is available to you?
It makes a good room decor as well huh.