It was a rarity that I would get to eat porridge when I am in my second home-Taiping. Being a rice-y kind of guy...or in fact most Malaysians' staple food are rice, eating porridge just doesn't seem that right to me. Not satiating either to say the least. But thanks to my father-in-law,
I had a wonderful dinner eating porridge at Yoke Fook Lau Seafood Restaurant recently
. A fresh, welcome change indeed. :)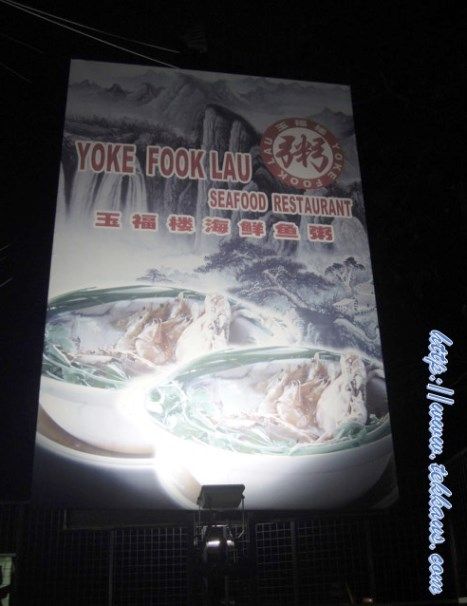 You won't miss this huge billboard.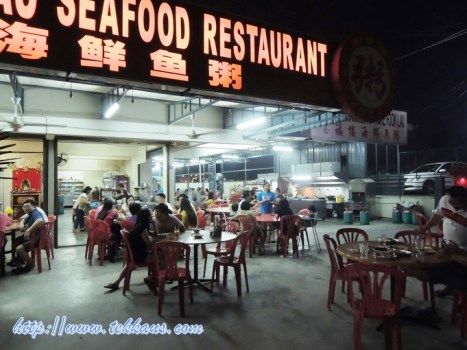 Welcome to Yoke Fook Lau Seafood Restaurant.
Gotta place our orders immediately. :p
It was pretty late (me and my babies overslept our afternoon naps :p) to have heavy dinner back then,
so my father-in-law suggested that we try something lighter as in porridge
. We happily obliged as we had not been to this restaurant before. Once we arrived, we could see that many tables had been occupied and people were waiting for their dinner to be served. Obviously the food here must be quite toothsome!
While waiting~Jordan boy was busy entertaining himself and us.
Jordan boy "headbutting" his grandpa.
YOU~cheeky little boy. :D
Yours truly and my little princess.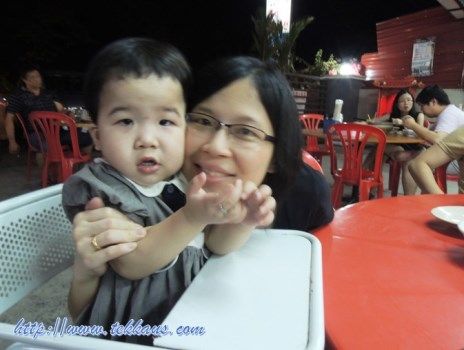 You are hungry already Jasmine girl?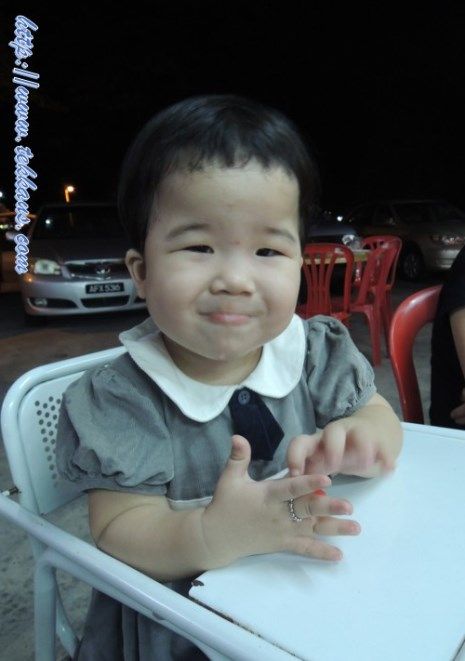 Food is coming. :D
After placing our order, we excitedly waited for our huge pot of porridge. We chit-chatted a bit to stave off the nagging hunger pangs. Cheeky Jordan was busy playing with his grandpa while little Jasmine girl was quietly checking out her new toy-keychain. A moment later
it started to drizzle and that was why our hot steaming porridge that came later was really enticing.
Ha :D I can't but feel happy while eating porridge on a rainy day. It makes me feel warm and cozy.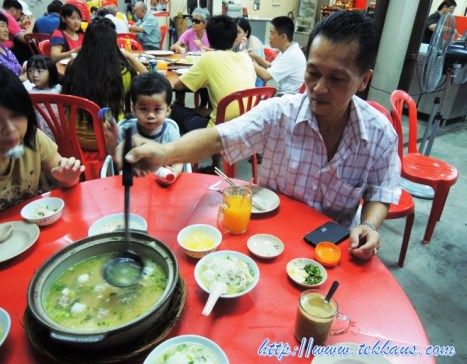 Dinner is served. :D
Served in a huge clay pot, the billowing scent of porridge immediately made our gaping mouth wet.
We were drooling when the fragrance broth was stirred to give it a more balanced texture.
The sight of those luscious meatballs didn't help at all! Then one by one, our bowls were filled with our dinner-PORRIDGE. Once I shoveled them porridge into my mouth, my taste buds were sent into frenzy modes. The porridge was really sweet and flavourful.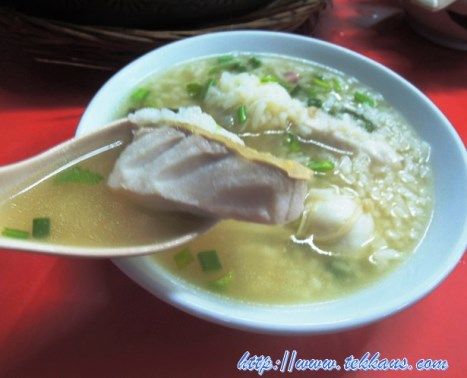 I love the fish fillet which was really supple, sweet and fresh.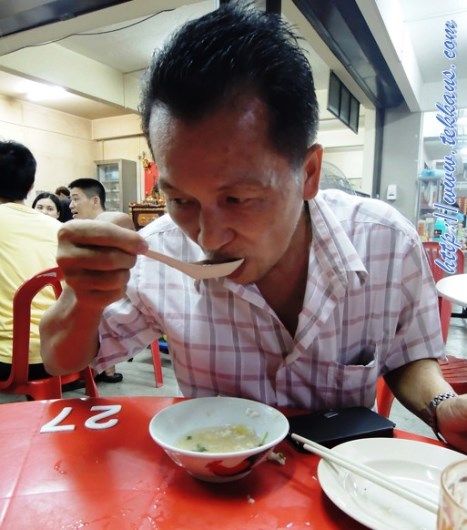 Father-in-law enjoying his porridge.
The porridge was oozing with the sweetness of those huge meatballs and fresh fish fillets. I must admit that I had not eaten any porridge as delicious as this for a long, long time. It was really smooth and creamy.
When I was done licking my bowl, the pot was squeaky clean empty as well.
Guess everyone was really hungry. How I wish I could have another bowl of porridge. Perhaps another visit next time? I heard they have other good recommendations such as Asam Steamed Dragon Grouper, Ginger Steamed Lala and Salad Prawn. So if you happen to be in the City of Rain, do drop by here for dinner. :)
Monday-Sunday: 11:00a.m.-3p.m. (Lunch)
Monday-Sunday: 5:30p.m.-12:00a.m. (Dinner)
Yoke Fook Lau Seafood Restaurant