Continuing on my post on
My Earth Hour At Philea Resort
, tonight I wanna share with all of you what I had feasted on before and after my unique Earth Hour.
Philea Resort
is really HUGE and I really can't find my way once I was in there. At first I couldn't locate where I should be heading to enjoy my seafood buffet. So I waited for
Submerryn
to lead me and her entourage to the place where we would have our sumptuous buffet!
Our seafood buffet dinner was awaiting us at Nusantara.
On our way to our dinning table we were greeted by literally hundreds of beautiful, glittering carps swimming gracefully in the "river". :D
Upon entering Nusantara, we were greeted by several waiters who ushered us to our dining table. Immediately the first thing I did was...no not helped myself to the food, instead I took out my camera and began snapping all those fantabulous food.
I think I spent close to 15 minutes (or more) to capture all those food that would be making contact with my taste buds later.
While I was shutter-bigging, I couldn't help my mouth from watering itself. I had to resist for I wouldn't have the opportunity when the feeding frenzy began later. Ha :D
Let's see who our chefs made our day shall we?
Grilled to perfection~he is the griller.
Too bad I didn't get to try these. :(
"Mission accomplished!" and voila it was time for me to feast on all those glorious food. The first thing that I grabbed for myself were the oysters, both raw and cooked ones. I must say that both the osters tasted delicious. Maybe I haven't had any for a long, long time
that's why the moment these succulent oysters made first contact we my taste buds...it was like fireworks.
Sounds like I am a "jakun" or something aye. Ha :D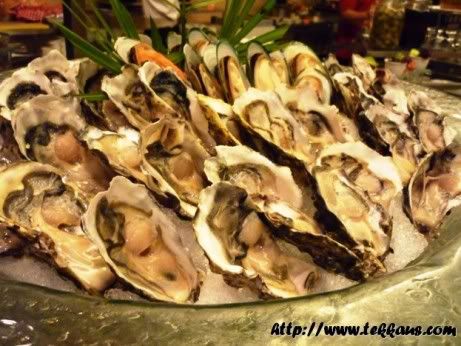 I had a few of these succulent oysters *slurp~slurp*
Awww~~~~My perfectly cooked Salmon!
Later on I feasted on...well too many toothsome food for me to recall. However I must say that
the grilled Salmon that I had in Philea Resort is one of the most toothsome ones I have ever tasted before
. My hat off to the chef who immaculately "fried" my favourite Salmon. Suprisingly unlike my other "cooked salmon" encounters, this one was not delicious but there is no fishy taste to it at all. Best of all...I could still feel the texture of the orange Salmon flesh when I sink my eager teeth into it. Ouh....so damn luscious!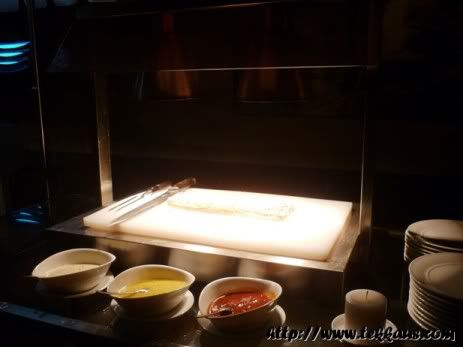 Wow...why was this given so many "limelight"?
Of course I did try the other food as well. The finger food were sweetly prepared and desserts were amazing. Last but not least of course I made myself a cup of coffee and chit chat with the other bloggers.
I enjoyed having a good chat with a few fellow bloggers which I have never met in real life.
Ha :D It was very rare that a "kampung" blogger like me get to meet these celebrity bloggers such as
Jasonmumbles
,
Submerryn
,
Lionelong
and
Iamthewitch
.
Of course we must have dessert right?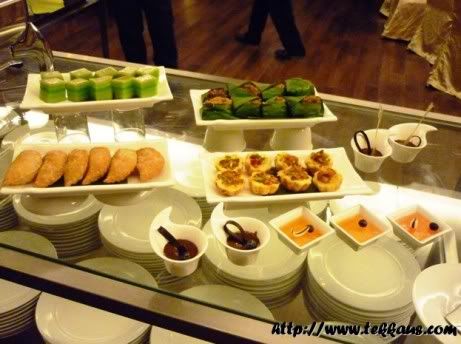 And...not forgetting our kuih-muih!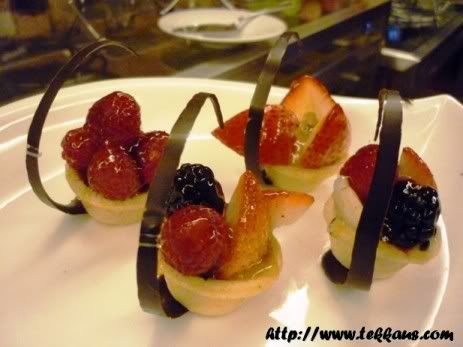 What berry are you?
Whipped berries!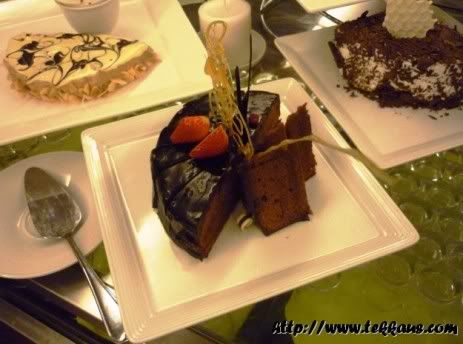 I ate 2 slices of this chocolatey cake.
Up close and personal.
My final sweet escape with one of these.
My feeding frenzy lasted for almost 3 hours. Goodness...must have eaten a lot. All in all...IMHO,
the food that was prepared for us were fitting for those of royalties and nobilities origins.
Yep! I did feel like a king for a day with this myriad of glorious seafood. The only sour note was that I couldn't taste everything there...maybe my tummy is too small. :p Last but not least I wanna thank Philea Resort for treating me to this seafood galore buffet. Gracias!