I have always believed that Samsung Galaxy Note smartphones can be considered the best available smartphones in every of its iteration. That is why I humbly believe that
Galaxy Note 4
is better than iPhone 6, iPhone 6Plus and even Samsung's very own latest flagships in the mould of the stunning
Galaxy S6
and S6 Edge. In fact I reckon that
Galaxy Note 4 will still be better than the yet to be released Galaxy Note 5.
Rumours have it that the SD card support and removable battery will be absent in the upcoming Galaxy Note 5, which if they are true would be a grave mistake by Samsung. That is why I believe Galaxy Note 4 is still the phone to beat in year 2015.
DESIGN
Your very first glance at Samsung Galaxy Note 4 will immediately tell you that it is different from its predecessors. Galaxy Note 4 is not as "plasticky" as its previous forms.
The main build material for Galaxy Note 4 is a combination of aluminium and magnesium which makes it the very first metallic Galaxy Note.
However, Samsung has decided to keep the back of the phone plastic so that it is removable. In other words you can still change your battery once the juice has been drained. Secondly the inclusion of a textured plastic back allows Samsung to carve out its favourite leather pattern which provides better grip for users.
DISPLAY
You will be happy to be greeted by
Samsung Galaxy Note 4's impressive resolution of QuadHD 2560x1440 on the huge 5.7-inch Super AMOLED screen
which boasts an amazing 515ppi in pixel density. Be ready to immerse in the beautiful vivid display which offers crisp and vibrant colours that would certainly exhilarate your eyes. The outlandish viewing angles coupled with high outdoor visibility will surely make it pleasurable for one to use this Note 4.
Bonus Tip:
If you have trouble seeing the screen while you are outdoor, switch your Galaxy Note 4 to Auto-Brightness and voila the screen will be brightened to a maximum of 750 nits. This is higher than the manual setting. :)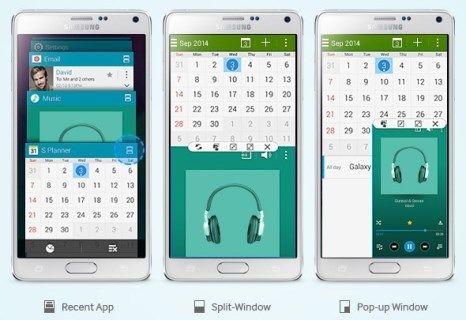 Galaxy Note 4 is a Multitasking King!
SPECS
Despite the release of the Samsung Galaxy Note 5, I honestly believe that Samsung Galaxy Note 4 is still one of the best smartphones available in terms of specs. Under the hood, Note 4 is powered by
2.7GHz Snapdragon 805 quad-core processor which is paired with an equally powerful Adredo 420 GPU and best of all you have a whopping 3GB of RAM
to make sure everything goes flawlessly smooth without any hiccup. That means you can play any game you throw at it let alone games like
Win On Slots
,
Chess Rivals
and
Solitaire Champ
. More importantly
Note 4 comes with a gargantuan 32GB of internal storage which can be expanded with another enormous 128GB of SD card
! This is what I call storage support!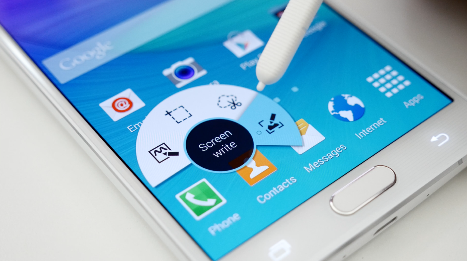 TouchWiz is lighter and more efficient.
SOFTWARE
It is great to know that Samsung has finally realized that they needed to shake off all those unnecessary bloatware that most users won't use. Having said so, it is a joy to note that TouchWiz on the Samsung Galaxy Note 4 is lighter, friendlier and more efficient compared to its previous incarnations. Samsung has also managed to make its Multi Window feature more powerful allowing Note 4 to handle different tasks simultaneously more flawlessly. Another vast improvement is the One-handed Operation Mode.
By "reducing the screen size", you can easily shrink the display to smaller screen which makes it possible for you to easily use it with just one hand.
Genius!
A better 16MP camera with OIS!
CAMERAS
Samsung Galaxy Note 4's main camera is a 16MP sharpshooter that could do more that what we are expecting. It is the maiden Samsung flagship (except the Zoom series) to come with
Optical Image Stabilization
which makes photos to be sharper and more focused compared to its predecessors. This is surely a handy feature for those with shaky hands. Flip the Note 4 around and you will be welcomed by a
3.7MP Selfie Camera that offers f/1.9 aperture for better...well Selfies
! Rest assured that you will have plenty of modes to toy around with and the two cameras on Samsung Galaxy Note 4 (rear and front) will surely suffice your needs to capture better photos for those wonderful memories of yours. :)
The Mighty S Pen
S PEN
The S Pen is arguably one of the most recognized features that is synonyms with the Galaxy Note flagships. What is a Note without its S Pen right?
The S Pen can not only respond to 2000 different sensitivity in pressure, but also doubles up as a cursor and comes complete with a special action button that provides more additional features.
This is one heck of a productivity tool that I truly want to have. In fact this S Pen alone can justify why you should fork out your hard-earned money for a new smartphone. Pull out the S Pen and the "Air Command" will pop up showing 4 functions that you could access to-Action Memo, Smart Select, Image Clip and Screen Write; all which I reckon will be useful to power users.
50% in 30 minutes.
FAST CHARGING+REMOVABLE BATTERY
Now you can charge your Samsung Galaxy Note 4 from zero to 50% in just 30 minutes! Another plus point about Samsung Galaxy Note 4, unlike the new Note 5 is the removable battery! YES!
The battery on the Note 4 is removable
which means you can easily switch the 3,220mAh battery when you run out of juice. This will certainly free you from the need to be plugged to a power socket and the hassle to lug around a power bank.
Do you Note?
FINAL VERDICT
Armed with almost all the relatively latest cutting edge technology, I strongly believe that Samsung Galaxy Note 4 will still be the best smartphone to beat this year.
The availability of SD card support which is allows you to have another whopping 128GB and the removable battery make Galaxy Note 4 a better smartphone compared to its new replacement-Note 5.
Plus, it will be cheaper too once its new sibling is launched. Currently Galaxy Note 4 is still being priced at RM2,199 and I do hope it will drop soon. :)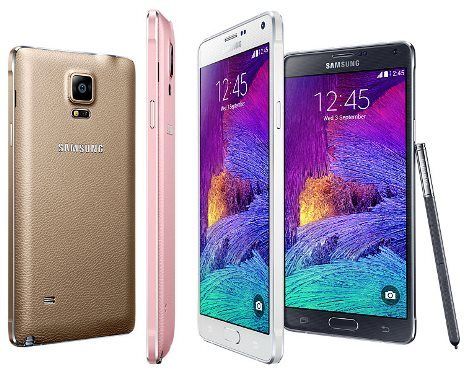 I believe the design of Samsung Galaxy Note 4 is more beautiful. :)