Finally this is the flagship smartphone that all Samsung fans and Android lovers have been waiting for. Introducing the silky new Samsung Galaxy S6. So gone are the days when Samsung was criticized for being too plasticky! This new Sam
The all new metallic and glass Samsung Galaxy S6 feels and looks really premium
compared to all the other Galaxy predecessors. It's clear that Galaxy S6 has shaken off a lot of the DNA of its older brother and this is something that Samsung should have done earlier. However it is better to be late than never right?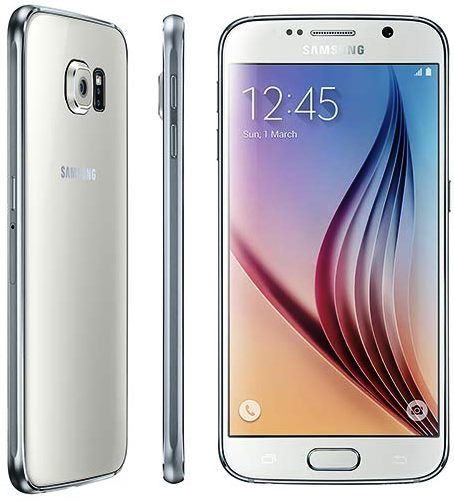 Absolute beauty!
DESIGN & FINGERPRINT SCANNER
Intricately crafted with matte aluminium alloy frame and Gorilla Glass 4 on the front and back, Galaxy S6 is no doubt one of the most beautiful smartphone ever created by Samsung! Galaxy S6 possesses Samsung's usual pill shape, with rounded tops and bottoms and straighter sides. You can find the power button and nano-SIM card slot sit on the right side. A micro-USB charging port and headset jack live on the bottom, and the left side houses a separate up-and-down volume rockers. Samsung has also improved its fingerprint scanner with a 360 degrees one touch method which allows you to unlock your Galaxy S6 by tapping your finger in any direction. And yeah~the fingerprint scanner is Paypal certified. Cool aye?
Stunningly vivid display!
SCREEN
Samsung Galaxy S6 sports a beautiful QHD (2560x1440) Super AMOLED screen that stretches across 5.1 inches to give you an amazing pixel density of 577ppi.
Galaxy S6' Super AMOLED gives you flawless contrast and unbelievable deep black that will allow you to easily read
your text messages no matter where you are. Be ready to be served with vividly 'real' RGB colours that will feast your eyes with beautiful life-like images and videos. And with Corning Gorilla Glass 4 to protect you screen of Galaxy S6, it is virtually tempered-proof!
Apart from the seamless metal and glass build, Samsung Galaxy S6 has also improved its software department significantly. The Galaxy S6 runs Android 5.0 Lollipop and has the latest version of Samsung's TouchWiz which which is not leaner and cleaner. This translates to better and smoother user experience. So no more annoying bloatwares that slow downs your Samsung smartphone. Interestingly, Samsung S6 will also allow you to change the theme of its layout. So Samsung is really going out full cylinders with S6!
Galaxy S6 sports the same 16-megapixel camera that we see on its big brother-Samsung Galaxy Note 4 and it comes with Optical Image Stabilization (OIS) that will definitely help those with trembling hands. Flip the phone and you will be greeted by a 5-megapixel shooter for all your wide-angle selfies with low-light capabilities.
With a launch time of just 0.7 second, OIS, fast tracking auto focus and a bigger f1.9 aperture for better low light shots, you can now shoot photos like a professional with Samsung Galaxy S6!
So who still needs a DSLR? LOL :D
Under the unibody glass and metal chasis, is the world's first 14nm mobile processor-Samsung's very own in-house 64-bit Octa-Core Exynos 7420 processor. This finer 14nm architecture allowed better performance and power efficiency.
Samsung Galaxy S6 will be boosted by a lightning fast 3GB of LPDDR4 RAM, so there will be no more hiccups.
As for on-board storage, Samsung has opted for a quicker UFS 2.0 Flash Memory which is claimed to be 30% faster than the usual eMMC 5.0 Flash that is being deployed for other high-end smartphones. Due to the absence of MircoSD slot, all Samsung Galaxy S6 will come with "meatier" storage of 32GB, 64GB and 128GB capacity.
BATTERY & SMARTER WIRELESS CHARGING
Samsung's new design philosophy also means that a removable battery has to be sacrificed here. Having said so, the batter in Galaxy S6 is also smaller with 2,550mAh of juice. However, Samsung claims that its processor, RAM and storage have been optimized for efficient battery consumption.
Likewise, you should not worry about battery as Galaxy S6 can be charged rather quickly with Adaptive Fast Charging which can power up the S6 from 0% to 50% in 30 minutes.
And Samsung has also claimed that a quick 10 minutes charge can allow you to watch 2 hours of HD video. Wow! :)
This is really the new Galaxy. :)
Should you get Samsung Galaxy S6? Well...if you have a thick wallet (it is pricey), why not? After all it is by far the best performing and best-looking Android smartphone you will see this year.
Available in 4 different colours: Black, White, Gold and Blue, Samsung Galaxy S6 will surely turn heads with its ultra-premium, refined design.
Apart from the almost redundant omission of microSD card slot and waterproofing capability, Samsung Galaxy S6 is the best-looking and performing smartphone that we have seen so far! So are you ready to pay RM2,599 when it lands in Malaysia?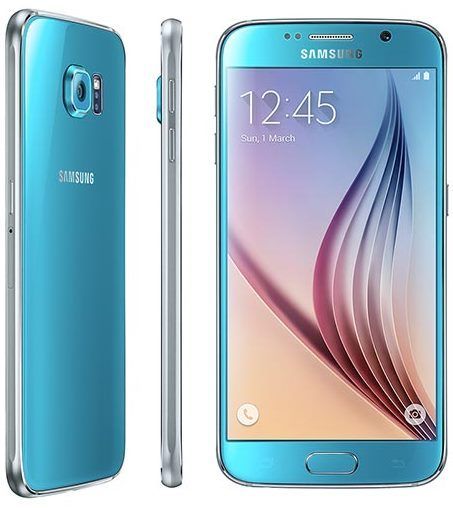 Aww...this blue Samsung Galaxy S6 looks really surreal. :)