What comes to your mind when we talk about Chinese New Year? Besides Ang Pow (money $$$), good food and great reunion...one will never miss the crack of fireworks right? In other words,
if there is no firecrackers being let loose during the 15 days of Chinese New Year, the festival will not be complete
. Although firecrackers have been outlawed in my country-Malaysia, purebred Chinese know it makes our blood curdle to be able to light the auspicious fireworks.
Pop Pop! Still remember this folks?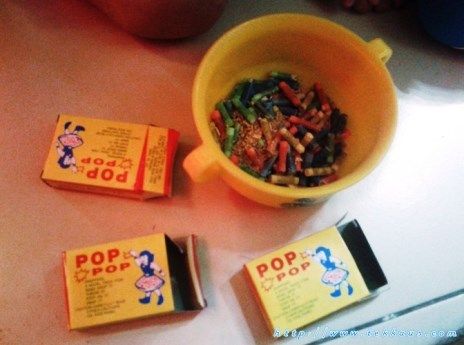 Brings back some good old memories right?
Hmm...it looks different now right?
Haih *sigh* I truly missed the days
when I was happily igniting the wick-like fuse of the firecrackers and witnessed how the "Dragons" stormed into the vacant dark skies, exploding into different glorious hues
! Those were the days. Now...I cringe at the thought of running into cops who were looking for preys. Perhaps I am thinking too much? I should have continued this tradition of mine and just play with firecrackers? Anyone of you has heard about police going around catching people who play with fireworks?
However it would be quite a pity if my two little babies-Jordan and Jasmine, don't get to play with firecrackers or something similar to it. Of course they would not get their hands on those highly explosive stuffs loaded with tonnes of gun powder.
This Chinese New Year is the very first time they got to play with something that "explode" a little bit.
Heard of Pop Pop?
Ha :D Yes, this is the best (and safest) thing that they could play with. And they surely enjoyed every single one of it. They were so thrilled to throw these little tubular "grenades" that burst upon contact with the ground.
Jordan and Jasmine were at first quite amused to see these colourful little firecrackers. Then I demonstrated to them how it should be played. Initially, both of them were terrified when the little Pop Pop exploded upon crashing the ground. However after I have spent some time cooing them and persuading them it is totally harmless, they started to lower their defenses and pick up their "grenades". After one or two throws...they have begun to be addicted to it.
Instead of throwing one at a time...they just grabbed a handful of the Pop Pop and just flung them into the sky.
The loud "explosions" tickled them and they were truly excited. Ha :D
I am glad that I could allow them to savour a few of life's precious moments. So do you guys enjoy yourselves? Hurling missiles at people and laugh at their expenses. Yupe!
Both of them can be so naughty that they actually threw a lot of those "Pop Pop" at my wife and me.
Young and innocent huh! Well~at least they are not afraid to toy with something a wee dangerous for them. Hmm...maybe next year we should be a bit more dangerous? Perhaps we should upgrade our pyrotechnic department? 😁