I believe by now you would have heard or seen the unimaginable
KFC Zinger Double Down
right? Previously when someone shared about this new burger on Facebook, I thought it was a hoax. Can you imagine...a burger without the breads? Instead the "breads" had been replaced by two huge, spicy patties-zinger patties!
Throw in a slice of cheese and a peace of bacon, you get a whopping, meaty Zinger Double Down!
So have you tried this gargantuan burger from KFC yet?
All MEAT, all MAN?
Makes me wonder who is behind this very phenomenal burger. Phenomenal in a sense that it is totally different from what you would have expected when you order for a burger. This might be KFC's latest campaign to salvage its ailing sales? Then again it is working you know. More and more people are sinking their teeth into this seemingly radical burger.
Even though this anomaly is targeted at men with its "musculine" slogan-All Meat, All Man
; I notice more and more of the fairer sex are enjoying it. Guess they must be pious carnivorous huh!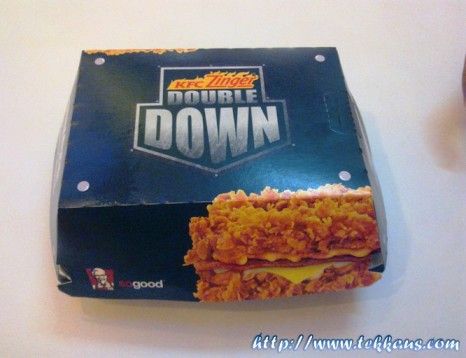 Introducing KFC's latest Double Down.
The most radical burger I have ever eaten to date.
Let's see what's under the white sheath.
Ta~da. :D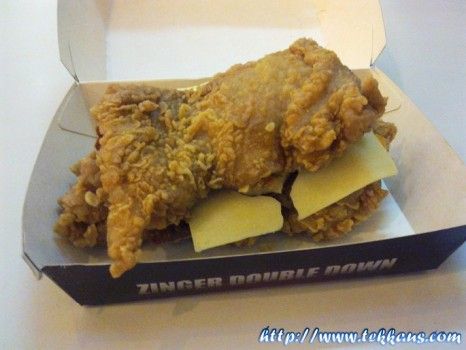 So does it look appetizing?
2 Zinger patties, cheese and a shriveled bacon.
Honestly I enjoyed this Zinger Double Down a lot. First thing first, it was very, very meaty and not to mention spicy. One single patty alone is already great; add in another and your taste buds will be exploded to the max...and that is when you become "all man". Ha :D Then again, it is best that you savour this special species of burger the moment it came out from the stove or fryer. That is when the
zinger patties are still succulently juicy and the cheese are still melting.
*drooling* So wanna be all meat and all man?
Now I am all meat and certainly all MAN!
P.S.: Sorry for this really lame post about burger. Haha :D And yeah...I know the picture quality isn't that good. :/