Usually back in Taiping when it is dinner time, we would be dining at
Xin Kwai Lerk Seafood Restaurant
. But during out last visit home, my father-in-law decided to bring us to another seafood restaurant-Jing Yik Man Tang (金玉满堂). This restaurant is only a stone's throw away from our home, around 5 minutes and IMHO the food served is way more delicious compared to the ones at Xin Kwai Lerk Seafood Restaurant.
Besides at Jing Yik Man Tang I got to taste a dish I have never ever eaten in my entire life.
You have to read on to find out what the special dish was. :)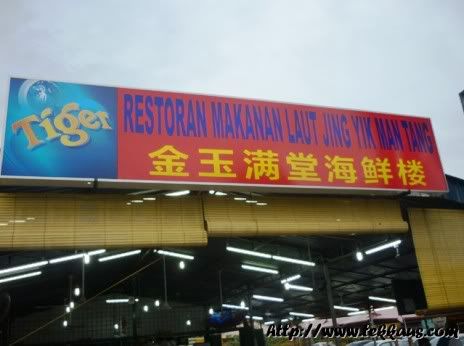 Welcome to Jing Yik Man Tang Seafood Restaurant.
Apparently Jing Yik Man Tang Seafood Restaurant was previously opened at another venue in Taiping. They had been relocated to this more "open" area recently.
My father-in-law said that since their inception at this new location, their business has really flourished.
I couldn't agree more as this restaurant was virtually crowded when we went there. I believe this have something to do with the feng shui aye. Ha :D As usual my father-in-law would be the one who ordered all the food. While were chatting, little Jordan refused to sit still in his baby chair. Instead he wanted to be carried; he wanted to venture around. So I brought him out of his "cage" to sight see while waiting for the arrival of our food.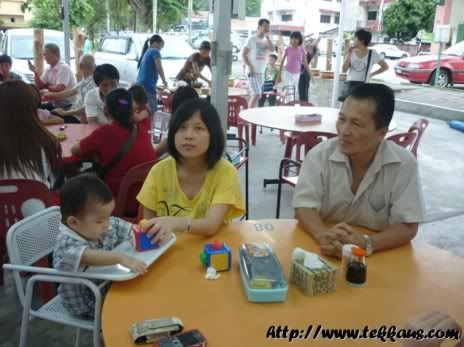 Little Jordan, wifey and father-in-law waiting for our dinner.
As there were quite a number of people on that day, we had to wait for awhile before dinner was served. Hence my wife grasped this opportunity to catch up with her father and sister. It always feels good to be back home with your family again huh! :) After around...20 minutes our dinner was served.
The first plate of dish that made it to our table was lemonade chicken chop.
First look of the dish didn't appeal me at all. It looked rather plain. But once I ate one of piece of it, I knew how wrong was I. The chicken chop was not crispy on the outside but also tender juicy in the inside. The chef had really retained the juice in the chicken. And the lemon juice or "sauce" really fused well with the chicken chop to enhance its overall texture and taste.
Lemonade Chicken Chop!
The next dish that "swam" its way onto our table was deep fried fish with shredded ginger. Frankly I didn't really know how this fish tasted as I didn't eat it. You see yours, truly me, doesn't fancy eating fish. Maybe I used to be a salmon swimming up the stream to spawn...or maybe I was just to plain lazy to eat fish. Ha :D Later on we found ourselves a plate of hot and spicy vegetable. Yupe~my favourite "spicy kang kung".
I am not a vege lover, but who can resist the spiciness of Kang Kung right?
Nom~nom~nom!
After grazing some vegetables, the next food that we devoured was toufu fried with sauya sauce. Not too bad! Last but not least was the dish that I said I have never ever eaten before in my entire 26 years' of life. Maybe it was just me. Then again this dish was so special that I can't help but be full of praise of it. Ladies and gentlemen...let me introduce to you...
a dish that has been alien to me until now (or then)...Yam Fish Soup .
At first I thought it was just another soupy dish. But when I took a second look at it, or was it third? Then only I realized it was a dish my taste buds had never encountered before.
Specialty Dish-Yam Soup Fish.
The flesh of the fish was very succulent and its original taste was very much retained. And the yam soup...was very creamy and tasty. Aww...I enjoyed the smoothness of the yam soup. :)
You see I love this dish of fish cooked with yam even though I am not a "fishy" kind of guy.
I highly recommend this dish especially to first timers. This dish happens to be the Specialty Dish of the restaurant. No wonder it tasted so delicious! If you happen to drop by in Taiping, do indulge yourselves at Jing Yik Man tang Seafood Restaurant. Make sure you are there early (6p.m.). :)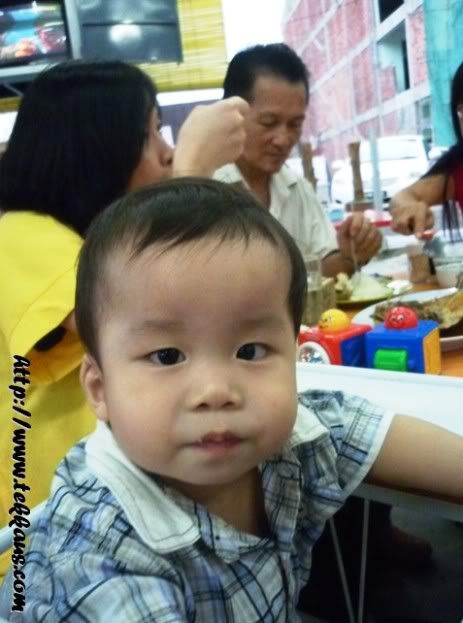 Yummy or not Jordan~boy? :)