Every day, a lot of bloggers try to find more ways on how to make money blogging. I admit I am one of them. In my previous post about
the 4 types of bloggers
, quite a number of us are bloggers who would love to earn some extra money online right? Who doesn't? I am sure millions (that much?) are now making money online with their blogs and I am positive that if you are reading this, you are one of them.
Making money blogging is not easy but it is achievable.
Having said so, there are so many different ways your blogs can be your money generating machine. You will be surprised by the variety of ways you can earn money online with your blogs.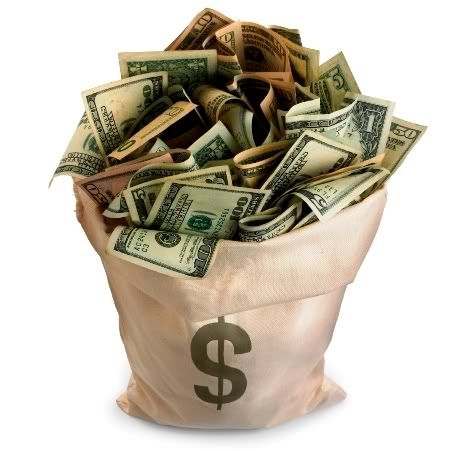 Want to know how to make money blogging?
It is getting easier for bloggers to earn money online. In fact I would say that the money are at our fingertips if we know how to tap them. So today we will try to look at the different sources of income that we bloggers can make.
I strongly advise that bloggers spread their earning through multiple revenue streams
so as to allow you to have more earning potential and leverage. Are you ready to discover how you can make money blogging?
1~PPC Advertising Programs
IMHO this is one of the most stable sources of income any bloggers can get from their blogs. Although you might not earn a lot at the beginning, but given time and the quality of your blogs (content), your income will slowly increase.
Google Adsense
,which is a PPC (Pay Per Click) advertising company, is one of the most famous and reliable advertising company. Basically all you need to do is paste some codes in your blogs and wait for the money to roll in. You have to bear in mind the profitability of advertising company depends largely on the quality and quantity of your traffic. The following are the list of popular PPC advertising network:
2~CPM Advertising Programs
CPM advertising programs are almost similar like PPC advertising programs. The difference is that you will be paid based on the number of impressions (hits) your blogs managed to garner. CPM means Cost Per Mille, and it stands for the cost of 1,000 impressions. Let's say if your blog is able to generate 100,000 page views monthly displaying an advertising banner with a US$1 CPM. This means you will earn US$100 monthly. This means that this form of revenue is more predictable and stable.
However you have to bear in mind that the CPM rates will very according to different advertising companies. The better and bigger networks will usually give you higher CPM rates because they have access to more advertisers especially the big spending ones. You can earn from as low as 10 cents to as high as US$10 for 1000 impressions. So if your blogs have a lot of page views, I suggest you use CPM advertising programs. The following are a few of the more popular and reliable CPM networks:
3~In-Text Advertising
If you are a regular visitors of my blog, you would have known that I am using this In-Text Advertising too right? In-Text advertising companies will place links inside your content or anywhere in your blog that has text which is relevant to them. These links are different from the usual links because it comes with double underline to distinguish it. So once your blog readers roll their mouse pointers over these double underline links, an advertising will pop up. If the advertisements are clicked, you will be able to make money.
So far I can only make around $10 monthly with In-Text advertising because it pays slightly lower than the other forms of advertising. Again some earning is better than nothing right? However some bloggers do not like the idea of making money from In-Text Advertising because they felt it is rather intrusive. What say you? Here's a list of In-Text Advertising companies that can make you extra dimes from your blogs every month:
4~Pop-up and Pop-under Advertising
Here is another form of advertising that might not appeal to either bloggers or blog readers. Pop-up is no doubt a common and yet a very annoying form of advertising for your blogs. If you are trying to grow your traffic steadily and increase your loyal readers base, I suggest you refrain from using pop-up advertising. But if you are into blogging just to earn as much money as possible, you can experiment with them. Here are 3 of the Pop-up Advertising networks that pop-up blockers love:
5~Audio Advertising
I am sure you will be very familiar with Audio Advertising especially if you are the kind who like to tune in to radio. Audio advertising is also known as PPP (PayPerPlay). So how does it work? It is pretty simple: A short Audio Advertising will be played (usually 5 seconds) each time a visitor lands on your blogs. Readers will not be able to stop the audio ads and thus this will create a 100% conversion rate based on the number of unique visitors that you have. How awesome is this?
Some have been reported to get around $4 CPM rate which is relatively good if you ask me. But the down side of Audio Advertising is that it is very intrusive. If you are a new blogger, I encourage you to think twice before serving any audio ads. But if you want to earn big bucks and don't mind that your blogs run audio ads, then do join one of these audio advertising networks:
6~Banner Advertising
Selling banners on your blog is one of the most lucrative ways for you to earn money. In fact for some bloggers, this form of revenue contribute to the lion's share of their online income. Why this form of revenue is so lucrative? Firstly it is because you can set your own rates and command a very good price for each ad spot that you sell. There are two ways for you to sell those ad spots in your blogs. You can sell various banner formats and the most popular banner format is the 125x125 banner!
One of the ways is through what we call "middleman". The pros of selling ad spaces through middleman aka 3rd part advertisement is that you can have more exposure to potential advertisers. The down side of it is your commission will be eaten up by them, some as high as 50%! So the choice is yours. Here are a few of the 3rd party advertisement companies that can help you to sell your ad spaces:
7~Text Links Ads
One of the more controversial ways of earning money is through selling text links on your blogs. Controversial because Google doesn't like us to sell any text links away from our blogs and if worse comes to worst you will be penalized by Google. That is your PR will be stripped and your Adsense account for that particular blogs will be suspended. Still a lot of people are taking this risk because they can monetize their blogs very easily by selling text links ads. One of the perks is that you can automate the sales of the links on your blogs. So do you wanna face the wrath of Big G?
If you are into making money online, then I am sure you are aware of affiliate marketing right? Affiliate marketing is one of the easiest way for you to make money online and the profit margin for each successful sale is quite high. Basically this money making model allows you (the affiliate) to sell products by other merchants. This is done by either by placing the banners or text link of the products or by writing a review about a particular product. In this form of advertising your performance is tracked based on CPA (Cost Per Action) or CPL (Cost Per Lead).
You can choose to start your affiliate marketing journey by selecting individual publisher such as
Digital Photo Secret
or you can also opt to be the affiliate for larger companies such as:
9~Monetization Widget
This is one of the funniest ways to make money online. The widgets that I am about to share with you doesn't require you to sell anything at all to earn money. Some of the widgets below let you earn money by allowing others to place their links in the widget; some let you earn money by selling the credits you earn while clicking on the widgets on other blogs. Of course this form of revenue is very, very unreliable and can be very taxing at time. But heck! Who knows right? You might be making thousands using them. Here are the monetization widgets that I could think of right now:
10~Sponsored Reviews/Posts
Simply put you are paid to do what you like to do best-blogging! I first came to know about paid blogging through PayPerPost. However paid blogging was surrounded by lots of controversies when it first started mostly because of the lack of earning disclosure. Nowadays more and more companies are offering paid blogging opportunities to blogger. Joining one of these companies will enable you to write sponsored posts on a wide range of topics.
Of course not all bloggers are willing to be paid to write about a particular product or promoting a website. They believe by doing so their editorial credibility and authority will be compromised. Well it depends on how well you write your sponsored posts and how those paid posts are related to your blogs. Writing sponsored reviews or posts is really a good source of income for a lot of people. Of course you can also choose to offer sponsored post directly. Now here is the list of popular paid blogging networks:
More and more internet users are turning to RSS (Real Simple Syndication) to get their daily feed of online content. Hence more and more bloggers are finding ways to monetize this method of online content distribution method. Although your earning from RSS advertising might not be as lucrative as your other income streams, nonetheless it will build up over time. After all you don't have to do anything right? It is like earning money blogging on autopilot aye? Join one of these RSS Advertising companies now to start earning:
12~Sponsorship
If you blogs have specific, engaging themed posts (e.g. weekly movie reviews, comparison of cameras, surveys of readers etc.) with good readership, then you can find advertisers to sponsor your posts individually. These advertisers will be sponsoring your posts for a particular period of time. For example if you have regular weekly post about how to snap beautiful pictures using DSLR, you can approach companies such as Canon or Nikon. This is actually a win-win situation for both you and the advertiser. You can earn good money from these sponsors and at the same time your advertisers will be getting targeted audience.


13~Selling or Renting Your Blog Posts
This might sound a little bit hard, but I assure you that you can really make money by selling or renting your blog posts. I have personally rented a few of my blog posts. What is the difference between a rented blog post and a sponsored post? Simply put, a rented blog post is a post that has been written earlier and later it was spotted by the advertiser. The advertiser then wanted to rent the post by placing several links or banners on that particular post. Of course these rented blog posts have high individual PageRank, traffic and SERP. You can earn a fixed monthly recurring income by renting out your posts. Or you can sell it for a lucrative single fee which I don't recommend.
14~Selling Your Own Digital Assets (Ebook etc.)
Lately more and more bloggers are developing their very own digital assets to be sold online. By selling digital assets that they have created, bloggers can add additional revenue streams for their blogs. Meaning that these bloggers are creating their own Ebooks, tutorial videos and special courses to sell them. It can be about how to blog, how to have a good relationship or simply a collection of the blogger's rantings. I believe the easiest digital asset to create is Ebook. You can instantly select and pull out contents from your existing blogs and compile them into an Ebook to be sold. :) Here are 4 tools that can help you to create your very first income-generating Ebook:
15~Blog Network Opportunities
Nowadays it is very easy for any bloggers to make money online. The variety of ways for bloggers to make good money via blogging is simply innumerable. The emergence of more and more blogging networks allow bloggers like us to make money online almost effortlessly. Of course blogging for your own blogs has its advantages because everything will be yours. Then again, it is not such a bad thing if you are blogging for blog networks which will handle everything for you such as the set up of the blog, SEO (Search Engine Optimization), promotion of your content etc.
These blog networks compensate your contribution in different ways. Some give you the opportunity to earn based on your unique pageviews, while others allow you to integrate your Adsense, Amazon, etc. for you to earn additional income. So it is not surprising that more and more bloggers are writing for blog networks. Here are the popular blog networks that allow you to earn extra money:
16~Ask For Donation
A lot of bloggers are placing the unmistakable "Donate" button on their blogs to earn money. However there are 2 ways to make money blogging by asking for donation. The first one is more ethical in a sense that bloggers ask for donation on their blogs, where their readers can learn and derive value from their contents. So if you have a very good, informational or inspiring blog with good readership, you can always ask them to tip you.
The second type of bloggers are the ones who do nothing but ask money from you. These bloggers don't provide you with any value or whatsoever, but they still want you to donate your money. You will be surprised to know there is this lady, called Bosnak who literally beg for money from her readers to pay for her US$20k credit card debt. Guess what? She managed to raise more than she has begged for. Read this post of mine to find out more:
5 Proven Insane Money Making Idea
.
Here's another totally wacky way to earn money from your blog. Indirectly of course. If your blogs have good readership and you have lots of fans, selling merchandises based on your blog is a viable idea. For example you can sell T-Shirt baring the logo or mascots of your blog. Or you can put in your pretty faces at the back of the T-Shirt and sell it. Of course you can choose from a list of merchandises to sell such as photo mugs, custom stickers, bags and custom caps. If the brand of your blog is really good, why not try selling merchandise? Try
CafePress
and start making extra money.
18~Flipping (Selling) Your Blogs
Have you ever thought that one day you would sell your blog away? Well I will but not my primary blog. Yes, flipping blogs can be a very profitable way of generating income in a very short period of time. You can earn up to a few hundreds dollar for selling your blog. But there is a catch: the blog that you are going to sell must be a niche-specific blog that has highly targeted traffic. Of course other parameters such as PageRank, AlexaRank, Subscribers, SERP will be taken into account before someone buys your blog. If you are the kind of blogger who can create lots of quality blogs in a short period of time, you can try to flip blogs. Here are 5 places where you can sell your blogs:
Woohoo! So there you have it folks. 18 ways for you to make money blogging. I am sure you have tried a few of the ways that I have listed above right? Try and experiment with the other methods mentioned above. Who knows right? Maybe now you can make more money blogging. Of course there are hundreds of method out there (that I am not aware) on how we can make money blogging.
But I am sure if executed properly, these 18 ways to make money online blogging can earn your hundreds per month if not thousands.
All the best everyone.