Do you wanna know where me and my missus had our anniversary dinner? No, we didn't have the typical candle light dinner, nor did we dine in at a luxury cafe with great ambiance. Instead we decided to be
a little bit adventurous with our taste buds and braced into the "jungle"
to hunt down for our food. We went to...
Sizzling Stonegrill
which is located in the new Jusco Bandaraya. My missus and I have been itching to try their food since its inception earlier this month. So a few days ago we finally managed to gratify our lust for it. :p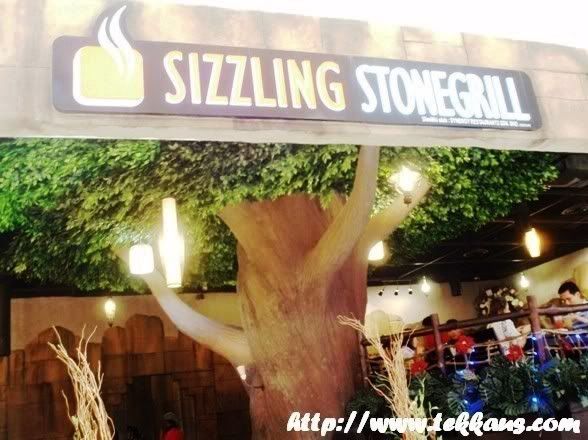 Welcome to the "jungle"!
Before we go into the food, let's talk about the atmosphere in Sizzling Stone shall we? If you happen to be in Jusco Malacca and walk along their so-called "food" alley, instantly you'll be grabbed by the outlook of Sizzling Stone. I thought it is a "jungle"-themed restaurant. It is so different you know. I wonder why they are so bold with the interior design of the restaurant. The restaurant looks rather dark but at the same time it is equally cosy. Why jungle? Because at the middle of the restaurant there is a huge tree (artificial one~lar), and the ceiling is full of leaves. How different huh!
Their huge tree.
There's even another floor?
What's so special about Sizzling Stonegrill? The main attraction would be, of course its sizzling stones! Previously whenever me and wifey passed by this restaurant, we would be "mesmerized" by the dinners who are enjoying their meals. Dinners grilled their salmon fillets on the sizzling stones. Immediately the
juice from the fillets would flow out and upon contact with the hot sizzling stones...it will evaporate and thus create this awesome "smoke"
! Ha :D So tempted were we, we made up our mind to try it ourselves. Hence to Sizzling Stone-we went, we saw and we ate!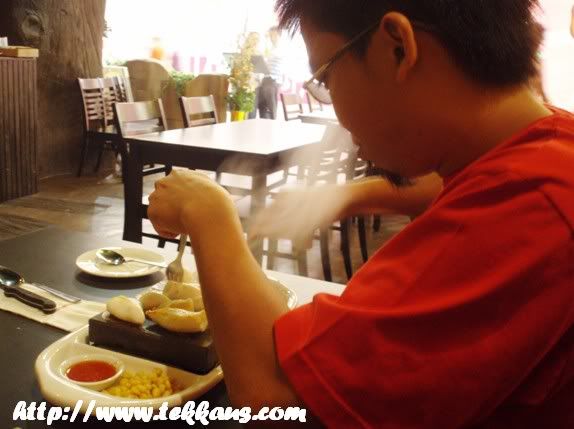 Makan lor!
We ordered their Spicy Salmon Spaghetti, StoneGrill Squids, StoneGrill Terayaki Chicken, Mushroom soup and 2 cups of hot lemon tea. So how was it? Hmm...to be brutally honest, we were a little disappointed especially with the spicy salmon spaghetti. The grilled salmon fillets were not cooked properly hence it still had the "fishy" smell. But apart from that everything else was yummy.
Fishy spaghetti.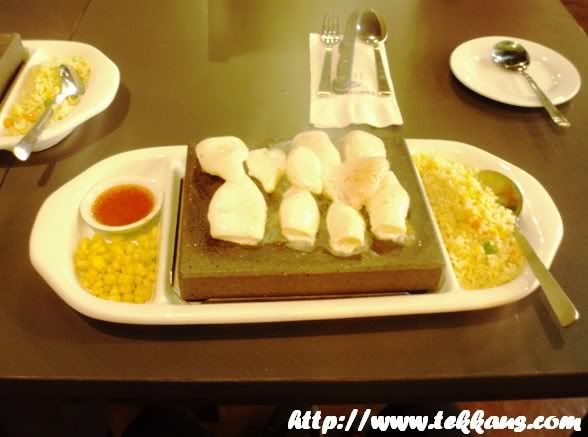 Plain sizzling squids.
Yummy-licious Terayaki Chicken!
Lemon tea.
The mushroom soup was thick and creamy, which was really palatable. The grilled squids were a tad too normal for our liking. It was not marinated at all. Just plain squids. However
the
terayaki chicken is simply awesome

.
After we had sizzled it on the stone, the aroma exuded was simply appetizing. The dish was truly flavoursome and it really salvaged our dinner. And the lemon tea that we had was just the tonic to zap our sumptuous dinner. :)
So should you pay Sizzling Stone a visit? I thing the answer is a resounding YES. They still have a lot to offer. And will I return to the "jungle" again? Yes, of course I would. :)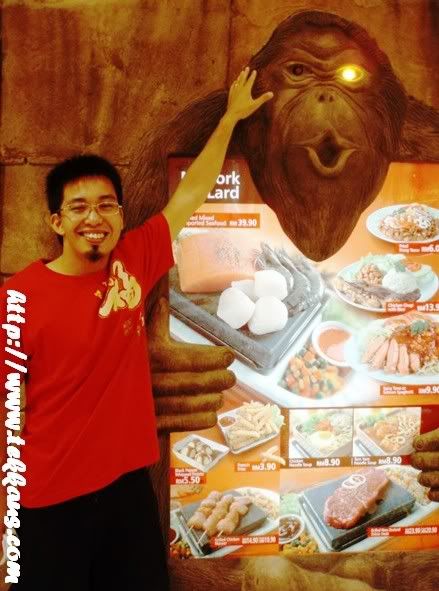 Haha :D