The night before we left Taiping, my father-in-law brought us to the first commercial hotel in Taiping-
SSL
Traders which was
inaugurated in December 2008. The moment we stepped in, the atmosphere was so grand. The restaurant was literally stuffed with people. On that day, lots of people came back to their hometown-Taiping, to spend some quality time with the family. I even saw a few foreigners enjoying their luxurious banquet.

I never expected I will be served such a sumptuous meal in this peaceful land.

No disrespect though. :p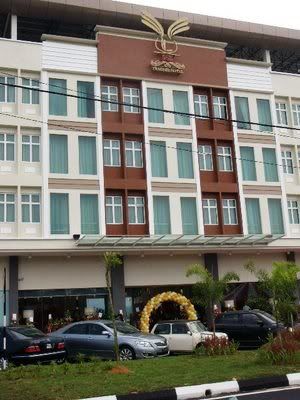 SSL Traders Hotel! :)
We really enjoyed our meals in SSL Traders Hotel. I heard from my father-in-law that the chefs in the kitchen are from Kuala Lumpur, no wonder the foods tasted so KL-ish! Haha :D Well, we ordered a few dishes. 4 to be more precise.

One of the most memorable dish that my taste buds experienced was the "Don't-know-what sea cucumber" dish.

It was really luscious. The sea cucumber is so tender and juicy.
Cucumber from sea!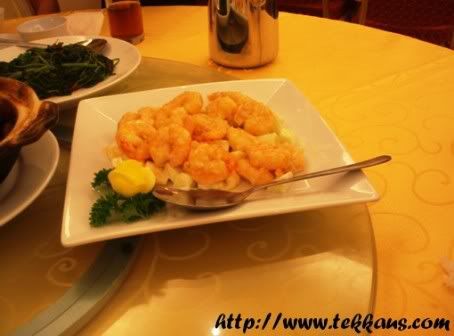 Yummy Mayonnaise Prawns!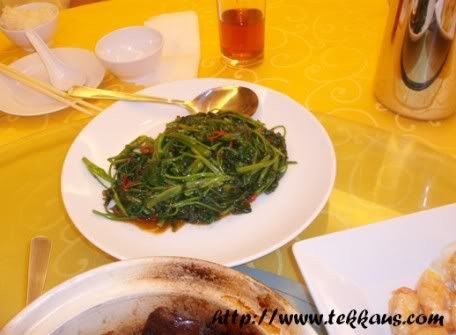 "Malay Scenery"
The other dishes are equally palatable. The mayonnaise prawns are really appetizing. I thought the prawns are really good, maybe because they are already skinned. The "Malay Scenery" (马来风光) aka fried, spicy kangkung was just nice. Not too salty and not too spicy but of course nothing to shout about too. Our final dish-steamed fish, can be considered the best. The fish meat is so soft and succulent. The moment the white tender meat was in my mouth, I could fell it melting in my mouth. Awww....so juicy. :p
Simply toothsome!
If you happen to be in Taiping, don't forget to whet you appetite in
SSL Traders Hotel
ok. I assure you that their hospitality and their foods are second to none, well at least in Taiping. :D