Jay Chou
's latest album-The Era (跨时代), is as good as his other masterpieces if not better.
I love his songs so much. In fact I would say The Era is different from the rest. I wanna thank my brother for downloading Jay Chou's The Era for me. The moment my brother handed me his 2GB Kingston pendrive, I immediately plugged it into the USB port and transferred all the 11 long-awaited songs into my laptop. I Hit open the Winamp and voila~Jay Chou's magical lyrics and songs started to transcend into me through my ears.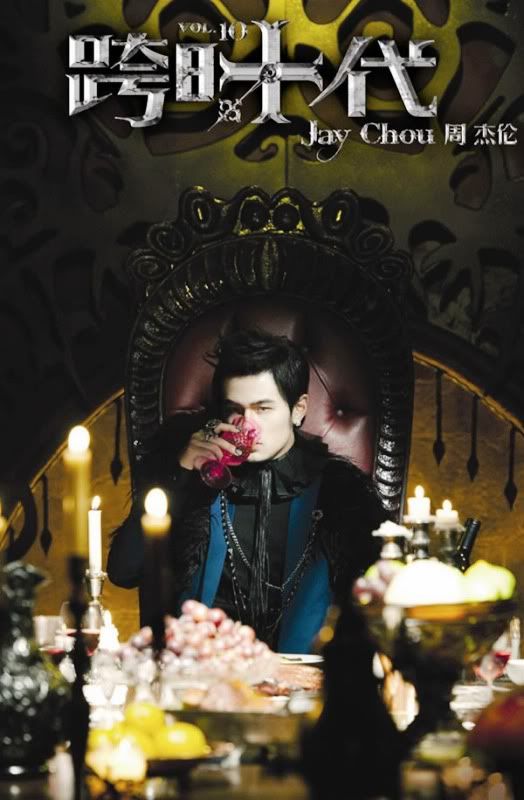 The Era-Jay's latest majestic album!
I would rate The Era as one of Jay's best creations. If you have been following my tweets, you would have known that I have been listening to all his songs repeatedly. Yep! Last night, I hooked up my Sony headphones and
listened to every single words in The Era, again and again for more than

6 hours

.
It was sush a joy and privilege to be able to listen to his songs while doing my work. Aww~a totally unforgettable eargasmic experience. Thank you Jay Chou.
He is cool or what?
So should you buy this Jay Chou's The Era? Definitely if you are a Jay Chou fans, just like me. From a purist point of view, I feel that his songs are very unique compared to the other singers. I love the arrangement and his creativity with his words in The Era. What if you are not his fan? Well...loving Jay Chou's songs is like appreciating the exotic taste of caviar. Loving Jay Chou's music is an "acquired taste". You might not like it in your first encounter, but believes me after listening to it a few times you'll love it.
Here's a sneak peak of Jay Chou's
Across The Era (跨时代) MTV
Not convinced? Sounds incredulous? Then again what I have said might sound a little bit biased right? What to do? After all I am one of his fans. Don't take my words folks, listen to his songs yourselves and I am sure you will like it too. You can download soundtracks and listen to his songs. Then buy his original album, which I strongly suggest you do.
Jay Chou-The Era (周杰伦-跨时代)
01.
跨时代 (Across The Era)

02.
说了再见 (I Have Said Goodbye)

03.
烟花易冷 (Momentary Just Like Firecrackers)

04.
免费教学录影带 (Free Video Recording Lesson)

05.
好久不见 (It Has Been Awhile)

06.
雨下一整晚 (It Rained The Whole Night)

07.
嘻哈空姐 (Hip Hop Air Stewardess)

08.
我落泪。情绪零碎 (I Am Broken)

09.
爱的等飞行日记 (The Love Diary of Flying)

10.
自导自演 (I Am The Director)

11.
超人不会飞 (Superman Can't Fly)
Or you can download the whole album-
Jay Chou The Era (60MB)
Sorry if my translation for the title sucks ok. :p Tell me what do you think about all his songs. Which is you favourite? I will tell you my favourite tomorrow folks. Don't forget to buy his Jay Chou's The Era original album ok. I am going to buy mine soon when it hits the store. Ok, I have to go go. I want to have this eargasmic sensation again. Jay Chou's The Era, let me plugged you into my life!
Disclaimer: Warning! Please delete the songs that you have downloaded within 24 hours. It is a breach of piracy. Please support original. I do not own the right to these songs. I have already deleted mine and I am listening to the Youtube version right now.